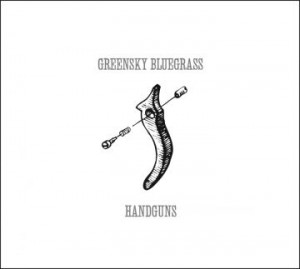 Greensky Bluegrass are a hardworking New-Grass powerhouse that maintain a relentless tour schedule and have been rapidly gaining ground and recognition since there 2006 victory in the Telluride Bluegrass Festival band competition. Their newest studio release Handguns has been highly anticipated in the Bluegrass/New-Grass scene. The album is the fourth studio release by Greensky and further solidifies them as musical pioneers with no fear when it comes to bending genres. It is not always easy for a touring band known for the energy and sound of their live performances to transfer that magic into the studio setting but Greensky makes that transformation seem nearly effortless.
With 14 tracks and over an hour of music, Handguns can in no way can be described as traditional bluegrass. The album starts strong with powerful lyrics and a Honky-Tonk Country Western feel on the numbers "Don't Lie" and "Handguns." The title track allows Anders Beck to really showcase his ability on the Dobro and from there the band picks up speed with "Cold Feet" before slowing it down again for "Beauty and Pain."
Each member of the band is extremely talented and clean with their instruments. That being said, it does not take away from the lyrical content. Both Paul Hoffman and Dave Bruzza add an old, road weary feeling to the songs while the instrumentation is perfectly complimented by the vocal harmonies. One of my favorite songs from the album is the horn heavy "I'd Probably Kill You." I had the pleasure of interviewing bass player Mike Devol the last time Greensky made their way through Colorado and he mentioned that they had brought in a horn section for a song. I wasn't too sure at the time what Bluegrass with a horn section would sound like, but was more than entertained by the final product. The brass added a ragtime feel to the song and left me wanting more horns with my Country music.
With songs ranging in time from two minutes to over ten, the band also lets loose a bit and manages to capture an element of their live show. With songs covering topics like Love, loss, and the outlaw life of living on the road this album has been on repeat in my stereo since I picked it up, and I don't see it getting stale anytime soon. I highly recommend you grab a copy of Handguns and let Greensky Bluegrass redefine their sound for you once again.
Visit The Greensky Bluegrass Website To Download Handguns Free 5 Song EP
I rode my skateboard from school in 7th grade to my buddy Vince's house where he put on the song "Perfect Government" by NOFX and I was hooked. The next day I bought the album Duh by Lagwagon. The next year I saw Against Me! at the Starlight Theater in Fort Collins, my mom dropped me off. I've since devoted every waking hour to anything done with passion. My speakerbox bumps everything from Lil' Wayne to Pablo Casals. I was never very good at making music, but I am damn good at listening to it. I've been filling up yellow notepads with random thoughts and misspelled words for as long as I can remember. I enjoy whiskey of all sorts, Newport cigarettes and the company of my family. I've got an addiction to run-on sentences that I'll probably never cure. A solid handshake with a stranger who has become a friend over a few beers means the world to me. You'll often find me wide eyed and wandering with an ear to ear grin. I live for funky break beats and spreading the love.