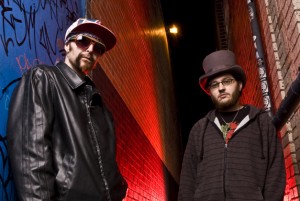 The Scene: An eager crowd snaked down College Ave Wednesday evening in anticipation of seeing a rising duo take the stage at the Aggie Theatre in Fort Collins.  BoomBox is Zion Rock Godchaux, son of Grateful Dead vocalist Donna Jean, and versatile DJ Russ Randolph. Together the lifelong friends from Muscle Shoals, Alabama have created a wicked blend of electronica, rock, and funk that has thrilled crowds across the country for the last several years. This being my third BoomBox show, I knew to expect a great dance party. They have always been a group that seems to thrive in smaller clubs where Zion's guitar riffs come soaring out at a higher volume alongside the devastingly funky beats.  Tonight was no different as they ran through a myriad of songs from their most recent album, Downriver Electric, as well as new tracks from their upcoming EP Lost Ya.
Opener: I arrived at 10 PM, towards the end of a set from Auditory Elements who had the crowd juiced to a jazzy blend of Dubstep and electronica.  Auditory Elements is JD Garrick, a local DJ from Fort Collins who seems to be throwing bigger and bigger parties these days.  His show is certainly high energy and it was good to see that a large crowd came out to see the local favorite.  It was certainly an adequate warm-up for the groove show that was about to take the stage.
BoomBox: BoomBox took to the stage a short time later to a nearly packed crowd.  The temperature in the Aggie was its typical 100 degrees, but the mix of college students, deadheads and dance fans didn't seem to mind letting out a huge roar when Zion and Russ took the stage.
They began with the familiar track "Boogeyman" which sent everyone into a mad dancing frenzy.  I always admired the simplicity of a duo like BoomBox. Russ drops a delicious beat and Zion smoothly shreds on his guitar. The combination comes out as a syrupy, funky groove, which instantaneously casts spells over the crowd.
Because it's so simple, their songs have often been considered "too similar" but tonight they seemed like much a more mature band. The transitions were spot on and each song had enough variation to keep the music interesting.  Because its all improvisational, and built on crowd energy, each set has a slightly different vibe and this show felt like a party.
Highlights also included rousing renditions of "Round and Round" and "Watergun." The crowd was energized beyond belief at this point and I faintly remember watching a brave soul climb on stage and back flip into the crowd, unfortunately, it didn't look like the crowd caught him and he hit the floor pretty squarely. This caused a momentary gasp from the crowd but BoomBox didn't hesitate and continued the consistent groove.
They picked up the pace towards the end of the show hitting high notes with "Headchange" and "Showboat" off the Downriver Electric album.  My only disappointment of the night occurred at the end of the show when BoomBox exited the stage to a raucous crowd. The Aggie crew left the lights down and didn't dismantle any equipment, presumably expecting an encore, but for some reason the duo never came back out and the crowd reluctantly dispersed.
Overall, this was a fantastic way to spend a Wednesday evening.  BoomBox is music with the soul of the Grateful Dead spiced up with a modern electronic twist and its certainly deserving of being called an epic live show.  I've seen them at festivals and in smaller clubs and the small venue shows are certainly more intense and focused. It doesn't do BoomBox justice to have them play a set during the middle of the day at a huge festival.  Regardless, next time these boys from Alabama roll through town I know I'll be front and center.
Energy: A
Sound: A+
Musicianship: A
Stage Presence: A
Set/Light Show: B+
Overall: A 

I've worked various positions in the music industry with Madison House, Rock The Earth and Bohemian Nights. My dream is to travel the world and seek out all the good tunes, beer and food that make life so special. I have a healthy obsession with live music and I'm thrilled to share the epic moments with you.