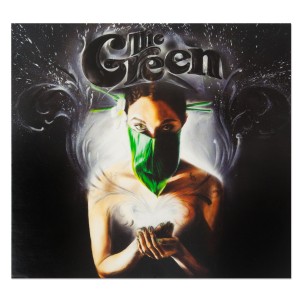 In less than a year Hawaiian band The Green has quickly emerged as one of the most exciting new reggae artists from the US.  Their self-titled debut album was named "Best Reggae Album" of 2010 by iTunes and hit Billboard's 2010 Year-End Reggae Chart.  The band is following that success up with their sophomore album entitled Ways & Means, available on October 25th on iTunes or at  Easy Star Records.  On the new album, singer Caleb Keolanui, singer-guitarist JP Kennedy, singer-keyboardist Ikaika Antone, and singer-guitarist Zion Thompson have produced a roots reggae style album that includes R&B, Soul, Pop, and jamband elements.  The bands'  use of these diverse styles makes this album accessible to a wide audience.
Four distinct voices, masterful musicianship, and sun kissed grooves add up to an exceptional album with a fresh unforgettable sound. Tracks like "Travlah" and "Jah Love" will appeal instantly to reggae music lovers.  However the stand-out track on the record is the R&B tinged "That's The Way" which serves as the best example of how this band makes their music accessible to fans outside of reggae circles without entirely diluting their roots.
Fox 31 and the weather Doppler radar shows that it is going to be sunny and 80 degrees this Saturday in Denver.  I am sure The Green are happy to take responsibility for bringing this beautiful weather with them as they travel from the Hawaiian Islands to bring some good times reggae to the Mile High City.  So Denver, keep your shorts and Sanuks out and come extend the summer for one more weekend with reggae's new  break out artist as they play The Bluebird Theatre with Giant Panda Guerilla Dub Squad this Saturday October, 15th.  The Green & Giant Panda will also be in Fort Collins on Friday night and Paonia on Sunday night.
As you wait for the show, take a listen here to the song "Decisions" off the new album.  If you like what you hear, take a listen to "Love & Affection" off the Love and Affection EP available now on iTunes. Don't miss these guy's, it's going to be a great show.

Wherever the music is, you'll find me with my camera, shooting on street corners, from barstools at clubs, from the side of the stage at theaters, and from photo pits in places like Red Rocks. Clicking away, trying to capture the emotive essence of music, and all those moments that we forget because of one too many Pabst Blue Ribbons.