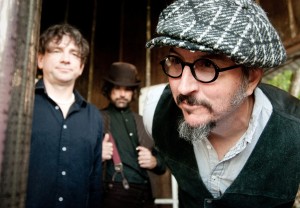 The Scene:  When I pulled up to The Ogden down on Colfax I couldn't help but notice how long the will call line was.  Immediately I went through the normal panic.  "Did I arrive late?  I probably missed some!"  No, I was right on time… but the eclectic crowd of 30 somethings apparently didn't want to miss any of it either, and had arrived early as well.  After parking the car and getting into line to receive my ticket, I began to peek around at the crowd and noticed that this crowd was a little different than most crowds at a Denver show.  Tonight wouldn't be a hippy filled pachouli wearing get together… no, this was something stranger.  This was the punk community of Denver, and they were excited to see one of the bands that has shaped the way punk music would be played since the 80's.  Primus was in town!
Prior to taking the stage, as is customary at Primus shows, their hard core fan base began the chant, "Primus Sucks!  Primus Sucks!"  As the sold out crowd chanted, they threw their fists in the air in rhythmic time eagerly awaiting their heroes.
I took a few minutes to glance around the stage.  On each side was an enormous 50+ foot astronaut.  Normally reserved for events like parades, these large balloon-like characters had digital faces that moved in eerily human ways.  As the astronauts eyes darted around the room, and nose moved ever so slightly… almost as if it itched.  I couldn't help but notice that these faces looked alot like George Bush.  The George Bush like facial expressions changed in creepy ways, as he peeked around the room, and down onto the audience.  On the back drop of the stage the band played an array of odd eye catching videos, my favorite one was of an elephant on a trampoline.  Primus is a strange band, so these visual presentations, while they would stick out at most other shows, seemed… well… almost normal here.
Primus: At a little past nine, Primus took the stage.  Random screams of "You fucking suck!" and other obscenities could be heard right until the very first note of "Those Damn Blue Collar Tweekers."  The show had begun.  Fans pumped their fist and screamed "those damned blue collar tweekers are runnin' this here town!" along with frontman Les Claypool.  Halfway through the song a group of people ran past me to the center of the floor which had developed into a mosh pit within a minute of the band beginning to play.
While Claypool is a few hairs grayer than his days of running around the stage in circles while slamming his bass in the early 90s, and his stage antics are certainly toned down from those days, he still has a great deal of stage presence to go along with what I consider to be the most dominant bass playing on the scene.
The first set featured some other classic Primus songs such as "Tommy The Cat," "American Life," and "Jerry Was A Race Car Driver" that left their tattoo covered crowd head banging and fist pumping the entire time.  The Primus crowd held no reservations of helping Claypool sing along when key lyrics would come along.
The second set would feature the band's first album since 1999, entitled Green Naugahyde, in it's entirety.  This album shows how Primus has grown and changed since their early days.  Their new music, very different from most of their other albums, proves that when people perceive Primus to be a novelty act, they are of course wrong.  The new album has much more of a funky dance party type of vibe to it that lends itself well to improvisation and exploration.  While the band jammed extensively and blended songs together as they ran through the album, the detours never left you feeling as though they were just noodling around.  Primus' method of jamming was hard, aggressive, and while quirky, it was mature and very danceable and they managed to retain focus and drive through it all.
The danceable grooves of the second set left the crowd tired and sweaty and the band exited the stage for a short time before coming out and performing a two song encore of "Golden Boy" and "Frizzle Fry."  Going back to old Primus classics, the once dance party atmosphere and gone back to a punky mosh pitt filled venue of screaming fans hanging onto Claypool's every word.  Though the crowd continued to chant, "Primus Sucks" in an effort to get the band to come back well after the last song had faded, the show had ended.  As we all spilled out onto Colfax the buzz in the air made it very apparent that nobody would be going home disappointed.
Energy: A+
Sound : A-
Musicianship: A
Stage Presence: A+
Set Light Show: A+
Overall: A