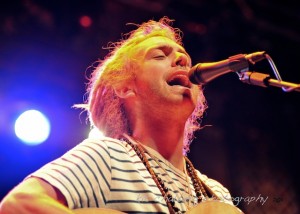 Photos By Kit Chalberg
The Scene:  The Ogden Theatre had a strange vibe the other night. Girls that were way too drunk, people incessantly talking too loud and the bass was uncomfortably loud. I love the fact that The Ogden has a 16 and over policy, and I totally support live music for all ages. Music is the driving force of my existence, and I want everyone to share in that joy, but on Thursday some of these kids were just annoying. The security was well run and didn't miss a beat checking ID's and keeping the kids out of trouble within the walls of the Ogden, but there were a handful of over 21 year olds handing beer off to starry eyed under aged cuties, which resulted in lots of obnoxious and distracting behavior. What can I say, I am old and grumpy, and I just want to enjoy the music! The bass was so loud that I considered leaving and when my music partner for the evening got home, I received a text saying "I feel like my insides are still vibrating." The kids loved it, and deserved to get what they paid for, but it was just too much. Period.
The Opener: Rob Drabkin. You can't be around the music scene in Denver without coming across this guy's name. He is a Denver native who has really established himself in the local scene. I missed most of his set, but arrived just in time for a great cover of Paul Simon's "Diamonds on the Soles of Her Shoes." The drummer from Rob's band brought an amazing amount of energy and musicianship to the song. Instead of a kit, the drummer sat on a Cajon (box Drum) with a kick drum pedal and mallet operated by foot on the side of the drum, so that both hands free to strike other parts of the box. What that means is they were able to produce an amazingly detailed sound with just two people that brought life into one of my favorite songs of all time. It makes me  eager to hear Drabkin and his band play Paul Simon's Graceland album in its entirety at the Bluebird on January 19th!
Cas Haley: I have to admit; this is the guy that I came out to see. I rarely watch TV, but four years ago I was sitting on a buddies couch in NY, watching America's Got Talent. While our immature intention was to mock the show and its participants, instead we got a refreshing surprise. After David Hasselhof introduced him to the stage, Cas Haley burst into a cover of "Walking on the Moon" that took the wind right out of me. Even through the screen, I felt all the emotion and passion coming from his bright guitar and crystal clear voice. He covered a great song in his original reggae/folk style and instantly broke through.
Haley hit some snags catching momentum after that, but he seems to have worked out the kinks on the business side of it, and he is ready to pick up speed again. His performance at the Ogden was just as awesome as his national TV performance years ago. His voice is refined and perfectly clear. He plays a Taylor acoustic like it was made to be played, with a bright tone and precision. His originals are well written and brimming with positivity which makes his jolliness on-stage contagious. Haley plays reggae in his own way, not trying to be anyone but himself. He incorporates singer/songwriter musical qualities with the sound of the islands. Haley's whole set was tight except for a minor technical difficulty which he dealt with like a pro! He put down the Taylor, picked up an electric, and got Trevor Hall's band to come out on stage in lightning fast time. They broke into a killer version of "I Got My Mojo Workin" and I got what I had been waiting for, "Walking on the Moon," but this time with a fully electrified band!
Trevor Hall: Since Haley played the last couple songs with a full band, the end of his set is where the obnoxiously loud bass started pumping through the speakers, but it was over the top for Trevor's set. We moved around the venue trying to seek shelter, but it just rattled your core no matter where you went. Despite the bass assault, Trevor's set was a lot of fun. His southern Cali look and long blonde dreads represent his sound. He definitely knows reggae, and it is a deep part of him, but his lyrics are light, poppy, and almost silly. The music is amazing, the whole place was jumping all night, but I am a lyrics man. Once I realized and accepted that I wasn't going to get blown away by his words, I gave in and focused on the great reggae rhythms he and his band were playing.
I was a bit put off by him speaking in the voice of a Jamaican as the guy is from South Carolina via L.A., but I have seen other people in his situation adopt the speech as a commitment to the life. This guy is putting his all into his music and is bringing reggae to a crowd that usually wouldn't listen to it. Trevor's reggae is radio friendly and strewn with pop, not what I would consider roots reggae, but reggae that appeals to kids who have no idea who Jimmy Cliff is.
That being said, his musicianship, voice and stage presence will make for an enjoyable evening, if you don't take it all too seriously. Once he brings the lyrical value of his songs up to match the quality of his playing and presentation, he will surely gather more educated reggae fans. For now, he is doing a great job finding his voice and building a large and diverse fan base. He ended the show with a stage dive, crowd surf and balcony jump into the crowd. He definitely oozes joy and enthusiasm and is playing reggae with every bit of his soul. The crowd couldn't get enough!
Energy: B
Sound : C-
Musicianship: B
Stage Presence: A-
Set Light Show: B
Overall: B
Brian Turk grew up in the shadow of the Catskill Mountains, near Woodstock, NY. He comes from a family of music lovers, audiopliles, Dead Heads and avid concert goers.The musical magic that can only be created in the Catsklills, both past and present, is what Brian cosiders the epicenter of his music addiction. The music of The Band, and most recently The Levon Helm Band, is the soundtrack of home for him. Brian's mother took him to his first concert at 5years old...it was Johnny Cash and Roseanne Cash at Jones Beach Amphitheatre. For Brian, music is a family affair. He feels the same way about live music...we all convene to celebrate together. Brian's writing life started when he wrote his favorite author, southern fiction writer Clyde Edgerton, a fan letter at age 13. When most kids were idolizing baseball players and television, he was worshipping writers and musicians. The two became friends and Clyde shared his craft with Brian. The next year Brian attended Duke University's Young Writers Camp. This is the extent, of what Brian considers, his "formal" training in writing. From then on his goal was to capture snapshots of life through words. Brian has been involved with live music in various facets over the years, and combined with his enthusiasm and love for Denver's music scene, he creates a vivid description of what he sees and hears. If you see him out at a show, dancing with a notebook in hand, say hello.