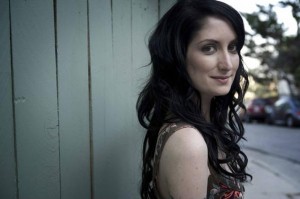 The Scene: It was a calm and subdued night at the Hi-Dive on Friday. In fact, it was downright melancholy. Maria Taylor brought some southern flavored indie folk rock from Birmingham to a small and calm crowd. As I sat at the bar by myself, a woman entered the bar and eventually pointed out to me that we were the only two in the crowd that weren't "coupled up." I did a thorough scan and she was right! This tells you a lot about Maria Taylors fan base. Her somber and reserved sound is what some people would dub "chick music," and although I don't really like that term, it applies in this situation.  I usually steer clear of that genre as it has never really resonated with me, but a couple songs on Maria Taylor's new album Overlook have slithered into my head.
Maria Taylor: Maria Taylor walked lightly onto the stage and strapped on an electric guitar that I feared might topple her over. She is soft spoken even while singing and her delicate demeanor comes through in her music. The use of the electric guitar adds a bit of bite and fatness to the restrained vocals and the simplicity of the song structures.
Her stage presence is rather placid, and the sad sounds of some of the songs kind of made me want to eat ice cream and write in my journal under the covers. Not all of her songs make you feel that way, and her new album Overlook has a decent mix of emotion and sound. "Matador" has a bouncy indie rock feel, while "Bad Idea" has a traditional old-time shuffle throughout. "Along for the Ride" is full of good harmonies with a soft and slow pace.
Overall, the performance was just too sedated for me. There were times when I thought she would take it up a notch, but Maria just kind of stayed in second gear. As a matter of fact, the Hi-Dive's bar was wiped down and the place was nearly empty by midnight.  This is not the kind of music to listen too if you have had depression issues in the past or are operating a motor vehicle. The album was cut and released in a hurry, and by the sounds of it the material on this solo effort might have deserved more time and thought.
Energy: C
Sound : B
Musicianship: B
Stage Presence: C
Set Light Show: C
Overall: C+

Brian Turk grew up in the shadow of the Catskill Mountains, near Woodstock, NY. He comes from a family of music lovers, audiopliles, Dead Heads and avid concert goers.The musical magic that can only be created in the Catsklills, both past and present, is what Brian cosiders the epicenter of his music addiction. The music of The Band, and most recently The Levon Helm Band, is the soundtrack of home for him. Brian's mother took him to his first concert at 5years old...it was Johnny Cash and Roseanne Cash at Jones Beach Amphitheatre. For Brian, music is a family affair. He feels the same way about live music...we all convene to celebrate together. Brian's writing life started when he wrote his favorite author, southern fiction writer Clyde Edgerton, a fan letter at age 13. When most kids were idolizing baseball players and television, he was worshipping writers and musicians. The two became friends and Clyde shared his craft with Brian. The next year Brian attended Duke University's Young Writers Camp. This is the extent, of what Brian considers, his "formal" training in writing. From then on his goal was to capture snapshots of life through words. Brian has been involved with live music in various facets over the years, and combined with his enthusiasm and love for Denver's music scene, he creates a vivid description of what he sees and hears. If you see him out at a show, dancing with a notebook in hand, say hello.