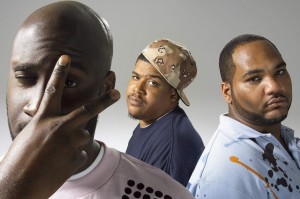 The Scene: It was a hip-hop history lesson at Cervantes' this weekend and we all got schooled. The place was packed, with bass thumping and bodies moving to the sounds of NY hip-hop from my high school days. Modern rap has gone a totally different direction than it was going in the mid-nineties and seeing this show makes me wish I was back in the day every Saturday! It felt amazing to hear the hip-hop I love live.  I talked with a lot of people over the course of the night, and we all seemed to agree that De La Soul and Black Sheep are in a category called the "The Real Hip-Hop." This newly established category also contains the likes of: Biggie Smalls, EPMD, Mob Deep, Method Man, Red Man, Busta Rymes, Nas, Jay-Z  and Mos Def-to name a few. No…Tupac did not come up in any conversation I had that night. East Coast represent!
A large part of the audience also came out to see the openers, who both are part of a new breed of conscious and mindful Hip-Hop here in Denver. One of the things I love about Cervantes' is how diverse their music line up always is and how much they support the local Denver scene. I could not think of a better venue for this show!
Opener: DJ CAVEM Moetivation. This performance was quite a spectacle. There were videographers everywhere, and the stage seemed kind of hectic. There were a lot of people moving around and a lot of "I need theses monitors up," "Na DJ, I need a different beat," or some other distraction. There were some people in the audience shouting "Hurry Up!" and "C'mon Man." I honestly don't know how long it finally took him to get it all going, but it felt like forever. Once his list of demands was met, he started showing us what brought people out to see him, a smooth dancehall infused flow. Cavem is part of the grassroots hip-hop movement here in Denver and states he is a vegan chef, urban farmer, social activist, and hip-hop artist. He and his associates create positive, aware, hip-hop that was cultivated in the 5 points neighborhood, and he has built quite a reputation for himself. I have heard, or seen, his name quite a bit over the last year, and I have immense respect for the way he is approaching his art. He seems highly educated and genuinely concerned regarding social, environmental, and political issues, and seems to be addressing them head on locally. Much love on that!
Foodchain: Wow. I can't believe I haven't heard of these guys sooner! I need to get out and see more hip-hop. I have heard drummer Alex Armstrong's name numerous times with other projects, but this is the best I have heard from him.
Foodchain is made up of 4 MC's, a producer, a DJ, and a drummer. They have an amazing stage presence and a ton of energy! The MC's all have distinct styles and the samples and drums keep you dancing. Also part of the more conscious grassroots hip-hop syndicate here in Denver, these guys are rapidly rising and have worked with some heavy-hitters in the rap game. They have already released one album and have another coming out 11/11/11, entitled Brunch.
Black Sheep: Black Sheep's "The Choice is Yours" is the first hip-hop song I learned all the words to back in 1992, and Saturday night was the first time I ever got to awkwardly rap them along to a live performance. It was epic. Dres got us all to crouch down to the floor, slowly chanting "engine, engine, number nine, on the New York transit line" building us to a frenzied explosion of "pick it up, pick it up, PICK IT UP! BACK ON THE SCENE…" The place was packed and bouncing and as he spit the lyrics. "Anytime capacity was filled-tried to rock it. Anytime a honey gave us play-tried to knock it." A lot of us felt like we were living the words right at that moment! Dres is actually only half of the original Black Sheep but Mista Lawnge and he are no longer working together. Dres was careful to identify himself and the DJ as "representing" the group Black Sheep repeatedly throughout the night and never actually said "We are Black Sheep." Dres played some newer material that was just as pure and authentic as his work in the early nineties. The DJ that Dres had with him was amazing! I don't see turntable skills like that often. Real records, the fader flying from left to right, constant cueing and bringing it back, and the elusive crab scratch. He worked the mic like a real DJ should, and the two of them gave us an amazing set!
After the guys "representing Black Sheep" left the stage, we got a half an hour of a DJ spinning all our favorite records from the past. All of them from the above mentioned "real hip-hop" category. We all went bananas and tried to rap along to the tracks that used to blast at our high school house parties. Even the under 25 crowd knew most of the songs, just proving the foundation the East Coast scene built for hip-hop.
De La Soul: Another powerhouse from the early nineties, De La Soul has a uniquely positive and energetic sound. "Me, Myself and I" is a hip-hop staple from 1989 and their album 3 feet High and Rising set the standard and paved the way for jazz influenced and alternative hip-hop for the likes of Black Sheep and Tribe Called Quest.
De La Soul has its full original line-up and has released albums fairly consistently since 1989, but their first was by far their biggest commercial success. The thing about watching veteran rappers is they do it so effortlessly. Neither Dres from Black Sheep nor anyone in De La Soul stumbled or missed a beat. These guys have been doing this for two decades and humbly exhibited their well-honed skills.
Dressed in jeans that fit properly, like grown-ups are supposed to wear, their throwback Nike's and hoodies, they presented their material professionally and just as energetically as the did way back in 1989! I forgot just how many hits these guys had!
All in all it was an amazing night. I now have a long list of other hip-hop acts from back in the day I would love to see live. The problem is, they either aren't performing together, or in some cases they aren't even alive. Saturday made me more confident in my belief that, for me, the hip-hop bell curve reached its apex between 1993-1999.
Energy:A
Sound : A-
Musicianship: A+
Stage Presence: A
Set Light Show: B+
Overall: A-

Brian Turk grew up in the shadow of the Catskill Mountains, near Woodstock, NY. He comes from a family of music lovers, audiopliles, Dead Heads and avid concert goers.The musical magic that can only be created in the Catsklills, both past and present, is what Brian cosiders the epicenter of his music addiction. The music of The Band, and most recently The Levon Helm Band, is the soundtrack of home for him. Brian's mother took him to his first concert at 5years old...it was Johnny Cash and Roseanne Cash at Jones Beach Amphitheatre. For Brian, music is a family affair. He feels the same way about live music...we all convene to celebrate together. Brian's writing life started when he wrote his favorite author, southern fiction writer Clyde Edgerton, a fan letter at age 13. When most kids were idolizing baseball players and television, he was worshipping writers and musicians. The two became friends and Clyde shared his craft with Brian. The next year Brian attended Duke University's Young Writers Camp. This is the extent, of what Brian considers, his "formal" training in writing. From then on his goal was to capture snapshots of life through words. Brian has been involved with live music in various facets over the years, and combined with his enthusiasm and love for Denver's music scene, he creates a vivid description of what he sees and hears. If you see him out at a show, dancing with a notebook in hand, say hello.