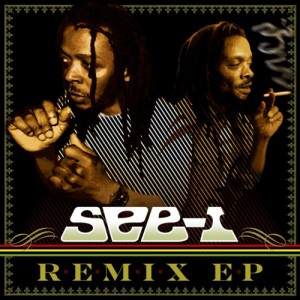 Fort Knox Recordings was established back in 2003 with one mission, to explore the funkier side of global music and they do just that with the See-I Remixed Compilation that will drop on the 22nd of this month (preview a track from The Funk Hunters below). Fort Knox has invited the mightiest producers and remixers from Australia, Belgium, Brazil, Canada, Germany, Hungary and the USA to record their own unique take on their favorite See-I tracks.  Unfortunately for you and I, this album won't hit the streets for another couple of weeks but See-I, never one to disappoint, is releasing the See-I Remix EP exclusively on Beatport today to give fans a little taste of things to come.
On their debut album, See-I blended roots and dancehall music with funk, dub, and rock, to create a new brand of reggae.  On the new 4 track EP, tracks are remixed and taken a step further, expanding the musical limits already pushed by the originals. Longtime collaborators and label heads, Fort Knox Five give "Haterz 24/7″ a ghetto funk makeover blending booming bass and their signature DC sound, so cool and deadly.  Next up, and for me the highlight of the EP, is the JPOD the Beat Chef remix of "How We Do."  JPOD gives the track a dizzying vocal reworking that he drops into a collection of Glitch-Hop beats from north of the border.  Knight Riderz remix of "Blow Up" take the SEE- I sound to a deeper, darker, dubber place, with heavy bass that insists on being played loud.  Last, but not least, is the Brazilian drum 'n bass duo Drumagick and their heavy beats and deep bass lines remix of "Soul Hit Man."
Additional remixes from  Subatomic Sound, Omegaman, The Funk Hunters , Ancient Astronauts, MustBeat & Nynfus Corp, J-Roc,Turntable Dubbers & Sebski, Clayton & Fulcrum, and Holmes Ives are every bit as good as the four that you can get your hands on today and will be available when the full project hits the streets later this month.  The 13 track compilation will be available on iTunes, Juno Download, and at Fort Knox Recordings.
Get down to Cervantes Masterpiece Ballroom this Friday November 11th as See-I  brings their original Funk n' Soul Reggae straight from the nation's capital to the Mile High City.  Listen up Denver!, this will be a show you do not want to miss.
SEE-I COLORADO TOUR DATES:
Thu, Nov. 10 – Aspen, CO @ Belly Up Aspen
Fri, Nov. 11 – Denver, CO @ Cervantes' Masterpiece Ballroom
Sat, Nov. 12 – Breckenridge, CO @ Three20South
See-I – Soul Hit Man (The Funk Hunters Remix) by The Funk Hunters

Wherever the music is, you'll find me with my camera, shooting on street corners, from barstools at clubs, from the side of the stage at theaters, and from photo pits in places like Red Rocks. Clicking away, trying to capture the emotive essence of music, and all those moments that we forget because of one too many Pabst Blue Ribbons.