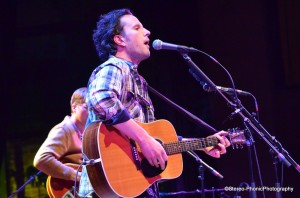 Photos By Johne Edge
The Scene: Last Thursday The Boulder Theater was filled with star eyed lovers both young and old, indie-folksters, and only a few young men that looked like they might be more at home at a fraternity kegger.  At first, I felt pleasantly surprised by the maturity of the crowd.  It has been my unfortunate experience to pay good money to see this humble and unassuming performer, only to have the concert tainted by unappreciative folks that seem more interested in partying than listening to a live performance.  But the theater seemed too calm, almost lethargic, as The Pines finished their opening set, with many of the audience literally sitting on the floor in the wings.  I had looked forward to this show for many weeks and began to wonder if Mason Jennings could breathe energy into the group.
Mason Jennings: Jennings warmed up the crowd with two songs from his newest album, Minnesota.  "Bitter Heart" and "Raindrops on the Kitchen Floor" both feature simple piano lines and declarations of love that had many couples swooning in each others' arms.  Musically the two songs complemented each other beautifully, the former a somber ode to love lost, and the latter a giddy celebration.
The Boulder Theater has a large dance floor, and the now alert crowd were ready to use it.  Jennings seemed glad to oblige as he traded keys for strings and launched into some old material with band mate Jake Hansen as his only accompaniment.   The very lively "California II," and its theme of reinvention and redemption got people moving.  The harmonica laced "Crown," followed up by "Simple Life," segueing into Chuck Berry's "Maybelline" rounded out the sing-a-long.
With the audience now primed, Jennings took a moment to share some thoughts on the creation of the new album and songwriting.  "With a new album, I don't know what to expect…it's open…a batch or two of songs will come and I was thinking of this theme of memories.  Like, when you die…what would those memories be?  Pajama pants?  Spilled cereal?  In all of the memories that I thought of, I was never alone though.  'Clutch' is the first song that started the new album.  I thought, what's the moment in your life that you would just not trade?"   As "Clutch" captivated the crowd, we all reminisced  about our own untradeable moments.
The evening progressed with a continual ebb and flow of energy that matched Jennings extensive catalog.  At one point, he invited stage hand, Mark Wyant up to join him and the talented beat boxer provided the percussion for a mesmerizing version of the lonely "Ulysses."  Later, he unleashed "Pittsburgh" and "Ain't No Friend of Mine," both tracks from his uncharacteristically dark and electrified Blood of Man album, with the latter eventually merging into the Ramones "I Wanna Be Sedated."
Towards the end of the set, The Pines joined Jennings onstage, and he took a break from both strings and keys and situated himself behind the drums.  Together, they performed the cabaret flavored, "The Well of Love," my favorite track from Minnesota.  They continued to indulge the crowd, pausing only to participate in what might best be described as "Chinese Fire Drills" with their instruments, and they rounded out the set with  "Living in the Moment," "City of Ghosts," and "Jackson Square."  It's strange that I have never really given much attention to "Jackson Square" before, yet it epitomizes everything I love about Mason Jennings; his intelligent and elaborate storytelling, his passionate vocals, and the beloved harmonica.
The encore began with the same tenderness as his first set, only this time Jennings employed the autoharp.  He joked, "If the Carter family can play it, then I can" as he sang us two lullabies, "One Paddle," an old Hawaiian song that his mother used to sing to him, and Woodie Guthrie's "Hobo's Lullaby."   He then opened the set for requests which sent fans into a frenzy.  "Butterfly" and "Keeping It Real" won, despite pleas for the likes of "Amphetamine Girl," "Lemon Grove Avenue," and "The Light."  The Pines joined him for the finale, "Hearts Stop Beating."
Just when we thought it was all over, Jennings couldn't help but take the stage for a second encore, serenading us with "Big Sur."
Well, I wish I had my arms around you
This is a song to give hope
Just let this thing surround you
This is a song to give you hope
And I believe that he did give us all hope…hope that he will continue to return to colorful Colorado to share his gifts for many more years to come.
Energy: B+
Sound: A
Musicianship: A
Stage Presence: A
Set / Light Show: B+
Overall: A