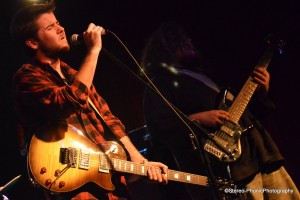 Photos By Johne Edge
Free Drink Monday Madness, as if you needed another reason to drink beer while listening to live music.  Cervantes' Masterpiece Ballroom and Cervantes' Other Side have been working with Bridging the Music to bring Denver a taste of homegrown music.  For the last 6 weeks now, every single Monday at The Other Side, talented bands of various genres have been battling it out to win a spot in the final round.  Showing up for Round 7, the finals, I got to catch the best of the bands.  The night's finalists included A Death Defied,  Transverse Waves, Your Babies Daddy, Chain Station, Meridian, Mail Order Soul, Sun Squabi, and Smack Thompson.
This was the third time Bridging The Music has presented Free Drink Monday Madness.  The promotion allows the bands participating the chance to win a headlining spot at Cervantes' Other Side, an opening gig for a national touring act at Cervantes' Masterpiece Ballroom,  a custom logo design by Bridging The Music, and a Silver Surfer Vaporizer with the band's logo on it.  The Cervantes' appearances alone give any band a chance to amplify their musical careers.
The finals at Cervantes' Other Side was packed, people were having a good time and the bands were all amazing.  I ended up casting my vote for Transverse Waves (see photos below), a member of the Best 303 Sounds family.  This four piece band blended elements of blues, hip- hop, metal, and reggae.  The resulting sound was a low down dirty groove that was reflective of the bands hometown, the Mile High City.
This coming Monday starts up a new round of Free Drink Monday Madness with Sweet Bred Band, The Last Thoughts of Ezra Pound, Straight Nerdy Like A Cool Kid, Hot Club De Rue Pearl, C4C and Cobary Jam.  Show up on Monday and every Monday after that for a free beer, and  to show your favorite local bands some love.
Wherever the music is, you'll find me with my camera, shooting on street corners, from barstools at clubs, from the side of the stage at theaters, and from photo pits in places like Red Rocks. Clicking away, trying to capture the emotive essence of music, and all those moments that we forget because of one too many Pabst Blue Ribbons.