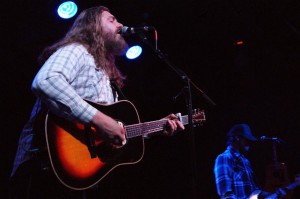 Photos By Jeff Hyatt
The Scene: The Walnut Room was filled with people searching for The White Buffalo on Friday night; people who were all hungry to hear more from this, for now, underground artist. An hour before doors opened we passed through the bar area to go in for soundcheck and have a chat with the band (Editors Note: This interview can be found here) and you could hardly move. Sitting in the listening room with only 4 people besides the band made me really appreciate how warm this space is. The room holds 200, and it was quickly bustling with eager fans once the chain was drawn back at the door.
I have to say, it was a great crowd as a whole. Everyone was having a blast yet extremely focused on the music in front of them. This isn't some cardboard singer songwriter on the stage, but a force and power that either silences you with a solo ballad or makes you scream with a Jameson fueled country romp.
A live music experience isn't complete without a sighting of "That Guy."  Well the "That Guy" award for Friday goes to large man who drunkenly walked to the bar and as soon as the clapping was over after a song, yelled out "Does anyone have a Camel Light? I will give someone $20 dollars for a Camel Light!" No one laughed, except after some NY wise ass responded back, "Keepin' it classy buddy. Keepin' it classy."
Opener: Joe Johnson. Joe Johnson is from southern Mississippi via Colorado Springs, and he, his guitar, and his hillbilly hat were a fine opener for The White Buffalo. His songs were filled with images of the sea, the still, and sin. People were quite chatty as he was playing, as most people are for openers, but he managed to sway the tide with his last two songs. He lauched into a song called "Jake Leg" a reference to a gait caused by consuming Jamaican Ginger, which got the whole place moving and deftly went from that to a song he did a cappella, which actually silenced the entire audience. Strong finish Mr. Johnson!
The White Buffalo: The White Buffalo is a rarity, both in Native American Indian lore, and in modern music. While right now he is primarily known only through word of mouth, he may soon be unleashed on a much larger audience with the support of a new record label. I get easily worked up over music, and my charisma can sometimes be borderline manic, but The White Buffalo took me to a whole other level of frenzy. My music partner for the evening defined the joy as a triple rainbow, and I would have to agree.
Jake Smith, The White Buffalo himself, walked on stage looking like Thor in a red flannel. When he opened the set solo with the song "Sweet Hereafter," which contains the lyric "The devil waits for me with open arms," we all immediately recognized the power of this man's songwriting both in composition and delivery. While a lot of people were comparing Jake's voice to Eddie Veder's, I heard Richie Havens, and when I mentioned that to Jake after the show, he emphatically agreed.
When Tommy Andrews joined him on bass and Mike Lynott sat at the drums, we were introduced to The White Buffalo as a whole.  They took us through songs about drinking, prostitutes, the road, darkness, murder, love, and loneliness; each one having a totally different sound and feel. Nothing in the entire set was repetitive or redundant. Tommy looked like the Godfather of a La Jolla locals only kind of crew, with his trucker hat pulled down as he slapped on the bass. Songs ranged from raw country to fine picking and punk folk to a hooker waltz. The entire night was filled with raw expression of emotion, and Jake's enthusiasm on stage really punctuated that. The band does not call drummer Matt Lynott "Chardonnay" for nothing; he is white, cool, and crisp.
The song that stood out for me the most the entire night was "Love Song #1," which so poignantly sums up the feeling of having someone enter your life at just the right moment:
"And I's on an island, an island for one
Burning my eyes staring at the sun, staring at the sun
And I's always silent, well had of gone deaf and dumb
I feel like a loser cause i never won, but I never won
'Til you blew in just like paper in the wind
And I just wanted something to believe in"
This man's honesty and authenticity shines through his intimidating appearance and he was boisterous and grinning the whole night. His original material is lyrically genius and his guitar playing is percussive and expressive. I hiked through emotional peaks and valleys all night, wondering how it could get better; the answer to that question was The White Buffalo's solo cover of "Highwayman." Going into the night I was thinking about that song, and what it would sound like if Jake sang it. Fucking awesome is how! It was almost as exciting as Weir, Robinson, and Greene's cover of  Dylan's "You Ain't Going Nowhere" at this year's Rocky Mountain Folks Festival (see our review here). Well, kinda, nearly, partially, almost. Okay, not even close to as exciting, but still amazing. His voice rang "across the universe divide" as he passionately sang the legendary song. He wrapped the night up with a rowdy version of "Folsom Prison Blues."
So where is the criticism you might ask?  The only one I have concerns not having enough of his material in my hands. Music isn't all about creating your art, but also about business, timing and opportunity. I sure hope that Unison Records assists The White Buffalo in charging forward rapidly because people need to hear what this man has to say.
Energy: A-
Sound: A
Musicianship: B+
Stage Presence: A-
Set Light Show: B
Overall: A-
Brian Turk grew up in the shadow of the Catskill Mountains, near Woodstock, NY. He comes from a family of music lovers, audiopliles, Dead Heads and avid concert goers.The musical magic that can only be created in the Catsklills, both past and present, is what Brian cosiders the epicenter of his music addiction. The music of The Band, and most recently The Levon Helm Band, is the soundtrack of home for him. Brian's mother took him to his first concert at 5years old...it was Johnny Cash and Roseanne Cash at Jones Beach Amphitheatre. For Brian, music is a family affair. He feels the same way about live music...we all convene to celebrate together. Brian's writing life started when he wrote his favorite author, southern fiction writer Clyde Edgerton, a fan letter at age 13. When most kids were idolizing baseball players and television, he was worshipping writers and musicians. The two became friends and Clyde shared his craft with Brian. The next year Brian attended Duke University's Young Writers Camp. This is the extent, of what Brian considers, his "formal" training in writing. From then on his goal was to capture snapshots of life through words. Brian has been involved with live music in various facets over the years, and combined with his enthusiasm and love for Denver's music scene, he creates a vivid description of what he sees and hears. If you see him out at a show, dancing with a notebook in hand, say hello.