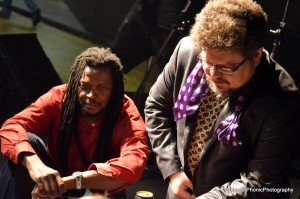 Photos by Johne Edge
As the Saturday evening party crowd at Cervantes' paid their bar tabs and filed out onto Welton Street to find their way home or wherever it is people go at 2 AM, Rootz, Zeebo, Rob, and Frank of See-I were kind enough to sit down and to talk to us at Listen Up Denver! about being parents, playing Red Rocks, and their new Remix Compilation that drops next Tuesday.
LUD!:  In past interviews See-I has shown a lot of love and respect towards our state.  What is it about Colorado that you guys seem to like so much?
SEE-I: (Frank)  There's the right combination of common sense and progressiveness.  California can tax happy thoughts, but they'll never be financially solid.  Without legs, progressive ideas cannot work.  You've got to have an infrastructure, a body of people, and some common sense.  I mean, what are we going to do, drive around and throw packets of weed out on the street?  No.  You have to pass a criminal background check, you've got to get a script, and it's legal and it's taxed, and it's cool…as opposed to this idea of, "we're going to give weed to everybody." (Rob) From my perspective, from putting out music…my cousin and his best friend, Trey Anastasio (of Phish), went to school in Vermont and what Vermont was doing in the 80's and into the early 90's is what I see Colorado doing right now.  Which is, if you play in Colorado and get people recognizing you and coming out to your shows, then it can create a really interesting phenomenon.  For example, we play these festivals but if we are on early in the day there's a chance that no one will see us…but if we come to Colorado, the word has spread and people will come and see us because Colorado is the new place where the people come to honestly see the music.  We've found a great home here because people really listen to the music.  It's not about the hype behind it or any of the bands that we happen to be in.   (Rootz) And the people are very down to earth and cool.  And it doesn't hurt that it's a beautiful place.  (Rob)  It's touches your soul…it's a walk in the woods and everyone needs the walk in the woods. So many people are stuck without being connected to nature.  We're blessed to be in a band where our hot spot happens from 10 till 2 AM, but we'll wake up and get our caffeine and find ourselves driving through the middle of a beautiful vista.  (Zeebo) You could get really spoiled out here.
LUD!: I know that See-I members are not only representatives of Thievery Corporation, but also Fort Knox Five and Empresarios.
SEE-I: (Zeebo)  Yeah, we're like bay bay kids…we multiply.
  LUD!:  What other bands does the See-I family contribute to?
SEE-I:  (Frank) Frank Mitchell Jr. Project, on ESL…there's two singles out and they are available digitally.  And as far as Fort Knox is concerned, I'm the true Sax Pusher.
LUD!:  This summer I saw many of you playing with Thievery at places like Wakarusa and Red Rocks, and others playing with Empresarios at Collegiate Peaks Music Festival.  From your standpoint what is the difference between playing big venues, or smaller venues like Cervantes' and Belly-Up?
SEE-I: (Rootz)  At a place like here (Cervantes'), we're closer.  You can feel the people and they can feel you.  (Frank)  I love Red Rocks, but you can only see so far up…here I can see everybody.  (Zeebo)  I'm going to put it to you like this…we will play for 1 person in a room like we will play for 20,000 people in a room.    It doesn't really matter to us how many people there is…we're going to play the same way because that's all we know.  I don't really know how to play any different.  I'm going to do what I do.  (Rob)  From a technical aspect though, the bigger stages become very difficult because the larger the stage gets the more the sound gets spread out.  As a result we like being closer to one another.  One of the reason that Thievery Corporation works, even though we don't get to rehearse, is that every member of Thievery Corporation is in another band and we are all capable of understanding that we may have a show where we don't get to hear ourselves, but I know that even though I might not hear myself…the guitar might be cranked up front.
LUD!:  When you're not See-I or part of another band, who are you guys?
SEE-I:  (Rob)  Parents.  That takes 100% of our time…we wish we could give more.  I have a four and a half year old son.  (Zeebo)  I have four kids.  The oldest, Salem, is 27 and is holding our Wednesday gig in DC.  I have a younger one that sings on "How We Do."  Rob is like James Brown…he's the hardest working man in show business…for real.  He does photography and videos too.  (Rob)  The graphic design area is actually where I'm most comfortable…the music is a little harder.
LUD!:  With all the touring you do, you guys spend a lot of time on busses and in vans.  If you're like most people, you pass that time listening to music.  What is your guilty pleasure music, the songs you listen to on the road, but probably don't want anyone to know exists on your iPod?  I'll go first, mine is Journey.
SEE-I: (Rob)  I love Journey.  Thievery Corporation went on the road with Massive Attack and Massive Attack's tour manager was Journey's tour manager.  I was like, "Yo, you gotta tell Neal Schon that he's one of the best, most underrated, guitar players out there."  (Zeebo)  I'll give you one more…and all of these guys give me shit about this…I'm gonna give you just a line, but y'all gotta follow me and help.  (At this point, the interview erupts in a crooner's sing-a-long):
"Fly me to the moon,
let me swing amongst the stars.
Let me see what spring is like on Jupiter or Mars.
In other words, please be true,
In other words…I love you."
(Zeebo) Frank Sinatra, baby!  (Rob)  Zeebo is a closet crooner.  It's so funny because Zeebo gets on the microphone when we're trying to do sound check and all he wants to do is croon, right?  So the monitor guy gets it all up and as soon as Zeebo gets on stage he's like, "JAH!" and the sound guy is like "that's not what I was planning for!"  (Frank)  And Tom Jones (more spontaneous singing occurs with lines from "She's a Lady.")    (Rob)  We're all big Michael Jackson fans and we love disco.  You know when rock turned into funk, and funk turned into disco? All of us come from that little era.  A lot of people were like: "Disco sucks," but we are all like, "what the fuck are you talking about?"  A lot of us have that great pleasure in the really funky disco music that came out in the mid-70's.
LUD!:  The upcoming See-I Remixed compilation has taken your music in all kinds of directions including Dubstep and Glitch-Hop.  How do you feel about what these guys have done with your original songs?
SEE-I:   (Rob)  So excited…Oh my god…the remix record is ridiculous!  We had no idea!  We've got people from Europe, Australia, and South America.  Jon H at the label spearheaded finding all of these producers that remixed the record and we are just so excited.  Everyone took a new spin on it and it's a completely unique record.
LUD!:  Did you have any say in how it went?
SEE-I:  (Rob) None…you can't tell a producer what to do.  (Zeebo)  Yeah, they're like, "Either you like it or you don't…this is how I do it and I'm not going to change it."  I'm going to be honest with you right now.  There's a couple of cuts that I almost like better than what I did originally.  It's still similar to what I did, but there's little twists that they did that I'm like, "Damn!  I didn't think of that…I wish  I did!  I'm goddamn jealous."  For real.  There's a couple of songs that really move me.  When somebody takes something that's yours, your baby, and you see it re-mixed and you're like, "I don't know which one I prefer anymore." Then it's good.  Jon H got a slew of people…someone different on every song and it's got a really rounded, worldly perspective.
LUD!:  I understand you are already halfway done with your second full length album of original material.  What can our readers expect from this future release?
SEE-I:   (Rob)  We have a lot of stuff in the works.  See-I has a lot of potential.  There's a lot of cover songs that we do, but that's something we're keeping on the backburner.  We also have the first EP, Dinner of Herb, but it wasn't a real release.  So we're going to take those songs and we've got a lot of remixes and a lot of b-sides.  So Dinner of Herb is kind of going to be our next release to bring back together the loose ends.  (Zeebo)  We have so much music that wasn't released or properly produced so I want to redo a lot of the old stuff where I'm at now as a producer.    (Rob)  There's some things that you can only do with a live band, so we're going to try to capture that on the next album with live drums and stuff to get a more live feel.
As the night and interview came to an end I was truly thankful and blessed by both the night's music, and the time spent with the people that made it.  Keep an eye out for the See-I Remixed Compilation dropping November 22nd.  Until then, grab See-I's self-titled album out now on iTunes, and at Fort Knox Recordings.