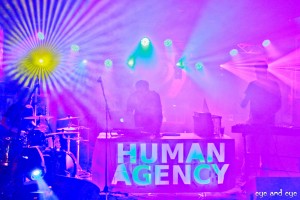 Photos by Ben Wilson's eye and eye photography
The Scene: One of the toughest aspects of living in Colorado is deciding what to do on the weekends as we are blessed and privileged the almost non-stop influx of musical guests from all over the country. With some of the nation's top venues all within walking distance of each other, and some of the biggest names headlining, it is easy to forget that we also pump out some of the most talented local artists as well.  The musical community is very reminiscent of a family in many ways. The more you get out, the more you recognize faces and just about everyone is warm, welcoming and full of life.
That was the case this past Friday at Quixote's True Blue in downtown Denver. Quixote's has been a favorite venue of mine for quite some time now and their multiple stages are always jammed with an eclectic bill of artists. The crowd wasn't as large as I've seen it in the past, but that didn't effect the performances that took place on Friday evening. Four groups and one producer took over the Grateful Dead themed bar for a long night of debauchery that reminded me of the atmosphere you would see at a house party with all of your best friends.
Patrick Lee: I was one of the first people in the bar on Friday, and for good reason. I was turned onto Patrick Lee about a week prior and was hooked immediately. He graduated from the CU music program and is a monster when it comes to creating tracks. With over 30 albums available for free download on his website, this local producer has easily become one of my favorite beatsmiths.
With nothing more than a laptop and a few midi controllers Lee had my attention from the first note which is no easy task for a producer, especially if there is hardly anyone in the building. He mixes Down-Tempo Trip-Hop with the Funky Break Beats that I live for. Fusing jazz with laid back sounds and even throwing in live piano parts with his left hand while working the midi controller with his left. I was more than thrilled to find out he would be playing a set in between each of the other acts. By the end of the night everyone in the place knew who Patrick Lee was. Humble when off the stage, and charming while on, his music is the kind I live for and he surely made a diehard fan out of me.
Rumpke Mountain Boys / Rastasaurus: As I mentioned earlier, it is a challenge living in this town and trying to decide what awesome music to check out. Well, Quixote's takes that one step further by often having more than one awesome band playing at the same time. That was my dilemma this past Friday. Local reggae rockers Rastasaurus took to the main stage while the only travelling act of the night, Rumpke Mountain Boys, took over the back room. I did my absolute best to filter in and out of them both, but it proved to be a lot harder than I thought due to the wildly different sounds coming from each stage.
Being the Whiskey loving, jig bustin', down home boy that I am, I have quite the affinity for Bluegrass music. The Rumpke Mountain Boys, named after the highest point in Cincinnati the Rumpke Mountain (literally a giant pile of garbage), came out in full force with some good ole' fashioned Bluegrass and I was hard pressed to leave their set. After talking to them post show I realized this was the first time they have been to Colorado for a few years and that definitely made me appreciate the time spent in front of their stage a little more.
That being said, I have a deep love for massive Reggae jams and the local act on the main stage known as Rastasaurus are slowly gaining quite the following in Denver among the "Jam" scene fans. I'm rather particular about my American Reggae music as it usually takes quite a bit for me to be interested in something not coming directly from Jamaica. These guys are a big exception. Although you may be confused by their name, you can't simply call these fellas a Reggae group. They incorporate many different aspects of music. With lyrics based around burning the ganja and generally having a good time, they do a very good job of straying from the holier than thou "rasta" aesthetic that many American Reggae bands portray.
You could almost consider it cheating since the bassist and guitar player are identical twins. This alone already puts them many steps ahead of that bands that intend to jam. The fact that they are all talented on their instruments definitely adds to the performance as well. They bounce back and forth from intricate guitar leads to bass heavy Dub rifts while the Justus on lead vocals, and the glue that is their drummer, bring everything back home. Their sound is definitely something new and it is no surprise that they are gaining steam in the Denver scene this quickly. If you dig Psychedelic jams and boogying down to some funky Reggae Rock and Roll, I definitely recommend you check these guys out. Don't let their young faces fool you, they definitely bring the heat.
Human Agency: If neither bluegrass nor reggae are your cup of tea, the headliners for the evening were sure to get you grooving. Human Agency started out as a duo rocking turntables, laptops, and multiple controllers but they recently added a live drummer bringing an entirely new element into the mix.
A lot of people argue that Colorado is far too oversaturated with what is considered "electronic" music. I can't say I disagree. With the rise in what many call Dubstep, it's easy to forget that there are many types of music made electronically and The Human Agency stay true to their Hip-Hop roots. It's rare to see artists actually spinning vinyl these days but the crate on stage, and old school turntables, had me interested before the first stick even hit the snare. They draw from Down-Tempo and Ambient sounds while keeping everyone moving with the added effect of a live drummer. Multiple times I thought an emcee was going to run on stage and start spittin' some frosty flows (hint, hint).
Their highly danceable brand of beats proved once again that we are not only blessed with the best nationwide acts, but local artists who are well worth checking out too. Drawing from samples and self-produced tracks, the Human Agency was worth far more than the ten dollar cover charge at the door.
Everything that happened last Friday night made me proud to call this place home, and inspired to keep doing what I love. From Patrick Lee's Funky Down-Tempo to the Human Agency's Hip-Hop infused Break Beats to Rastasaurus and their laid back Reggae tunes, it was a great night of music.
Sometimes throwing the word "Local" in front of the word "music" has an adverse effect on whether or not people decide to make that gig their destination for the evening. It's tough sometimes with so many options, but I feel all of the artists showcased at Quixote's last Friday deserve just as much recognition as any touring artist. In time I see each one of the acts going place and I'm proud to say I got to see it when it was all starting out.
Energy: B
Sound:  B+
Musicianship:  B
Stage Presence:  B+
Set/Light Show: B
Overall: B+
I rode my skateboard from school in 7th grade to my buddy Vince's house where he put on the song "Perfect Government" by NOFX and I was hooked. The next day I bought the album Duh by Lagwagon. The next year I saw Against Me! at the Starlight Theater in Fort Collins, my mom dropped me off. I've since devoted every waking hour to anything done with passion. My speakerbox bumps everything from Lil' Wayne to Pablo Casals. I was never very good at making music, but I am damn good at listening to it. I've been filling up yellow notepads with random thoughts and misspelled words for as long as I can remember. I enjoy whiskey of all sorts, Newport cigarettes and the company of my family. I've got an addiction to run-on sentences that I'll probably never cure. A solid handshake with a stranger who has become a friend over a few beers means the world to me. You'll often find me wide eyed and wandering with an ear to ear grin. I live for funky break beats and spreading the love.