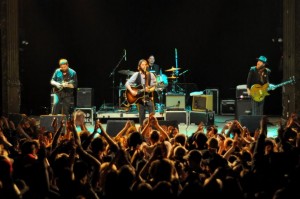 The Scene: The Ogden was PACKED, and I mean PACKED.  It was as full as I seen it since My Morning Jacket played the room back in 2007.  It was an interesting mix of cowboys with their stetsons, 40 something couples, drunk frat boy types, and even the occasional (and I do mean occasional) hipster.  Overall, I'd say the crowd was a little rough around the edges.  I saw at least three people being carried, or at least significantly helped, out the door by security and back by the bar it was pretty noisy when Bingham was playing some of his quieter material.
Ryan Bingham & The Dead Horses: Bingham and his band started out the night very similarly to the way he had started out his set at Twist and Shout earlier the same day.  He opened with "Dollar A Day" and got a huge cheer when he the "Marijuana money tree" line came up.  He then moved into "Tell My Mother I Miss Her So," which really got the sold-out crowd shouting along with every word.
While there are certainly some that pin the Country Artist tag on Bingham and his band, he made it a point during his set to try to toss off that label.  With the nearly psychedelic jams that developed out of "Hard Times" and "Direction of the Wind" it's clear that The Dead Horses are much more than a country band.  They seem to be influenced by West Texas legends like Willie Nelson and Waylon Jennings while clearly paying attention to bands like Widespread Panic and The Drive-By Truckers.
As was true with the afternoon acoustic set, "Hallelujah," was one of the clear highlights of the show as was the closing number, a take on Townes Van Zandt's "White Freightliner Blues" that featured opener Liam Gerner on guitar and vocals.  Overall it was a very solid show that didn't end when the band walked off stage at midnight.
Bingham took the stage after a brief encore break for a three song acoustic set that included his Grammy winning tune "The Weary Kind," "Don't Wait for Me," and a fantastic take on "Southside of Heaven."  He then brought the band back up to the stage for "Sunshine" and "Bread and Water" before wrapping up a memorizing two hour show.
Energy: B+
Sound: A-
Musicianship: B
Stage Presence: A-
Set/Light Show: C
Overall: B+
All Photos by Tim Dwenger

Music has always been a part of my life. It probably all started listening to old Grateful Dead, Peter Paul & Mary, and Simon & Garfunkel records that my parents had, but it wasn't long before they were taking me to concerts like Starship, Crosby, Stills & Nash, and Huey Lewis & The News. I got the bug to write about music after reviewing an Eric Clapton concert for a creative writing project in high school but didn't really take it up seriously until 2002. Since then I have published countless articles in The Marquee Magazine and done some work for Jambase.com, SPIN Magazine, and various other outlets. I started Listen Up Denver! as a way to share the music information that is constantly spilling out of my head with people who care. Please enjoy!