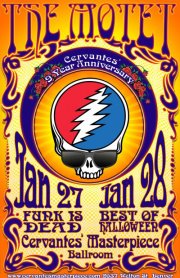 THE MOTET
"Funk Is Dead" & "Best Of Halloween" 
Cervantes' Masterpiece Ballroom
Friday & Saturday, January 27th & 28th
 Tickets: $20 Per Night or 2 Day Pass for $30
PURCHASE FRIDAY & 2 DAY HERE
PURCHASE SATURDAY HERE
We are excited to announce that on January 27th and 28th, The Motet will be performing two very special shows at Cervantes' Masterpiece Ballroom.
On Friday, January 27th, due to overwhelming demand, they will be bringing back the most successful and entertaining tribute they have created yet: FUNK IS DEAD! (read our review of the October 29th show here).  This will be the same line up of amazing musicians that they brought out for our four sold out Halloween shows. In addition to the slamming rhythm section of Dave Watts (drums), Garrett Sayers (bass), Joey Porter (keys), Ryan Jalbert (guitart), Scott Messersmith (percussion), and Dan Schwindt (guitar), we will be featuring our three great vocalists: Jans Ingber, Paul Creighton, and Kim Dawson. Also, they will be showcasing a trio of horns: Gabe Mervine (trumpet), Matt Pitts (tenor), and Pete Wall (bari). This is going to be an amazing night of mind blowing music in one of the best venues in Colorado, don't miss out!
On Saturday, January 28th, they will be playing the "Best of Halloween," featuring music by all the artists they have covered during Halloweens past. You can expect to hear jams by Talking Heads, Jamiroquai, Prince, Stevie Wonder, Michael Jackson, Sly and the Family Stone, Earth, Wind & Fire, Tower of Power, and more. As an added bonus they will be bringing out the same three amazing vocalists that we featured for our Halloween shows this year: Jans Ingber, Paul Creighton, and Kim Dawson. Plus with a three piece horn section, this is going to be one powerhouse of a band performing some incredible music . The Motet's "Best of Halloween" shows always go down as some of their most epic performances of the year so please don't miss this!