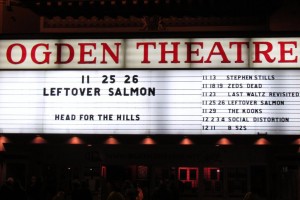 Photos by Jon Prins
Click Here To Stream This Show While You Are Reading This Review
The Scene: Leftover Salmon made their return to a Denver stage this past Friday night at the Ogden Theater. The event was a post-Thanksgiving, two day run that welcomed Andy Thorn to the band full time and marked the beginning of a very eventful future for the group. This was a two night run that has been on the tips of people's tongues ever since it was first announced. The very diverse crowd showed up early and packed into the Ogden tight for some home town PolyEthnic Cajun Slamgrass.
Hippies, professionals, young, and old all crammed into the Ogden on Friday night with high expectations for Colorado musical pioneers Leftover Salmon and up-and-coming local act Head for the Hills. The energy inside the venue was high and booze flowing freely for a musical feast of Leftover Salmon after everyone stuffed themselves on Turkey the night before.
Opener: Head for the Hills. These guys are quickly becoming one of the most talked about acoustic bluegrass influenced bands in the area. Their physical roots may be in Fort Collins, but it's clear by their sound that the musical roots are drawn from around the world. Their set started early, but the theater was already rather full. Don't be fooled by the four fellows with stringed instruments on stage, to define them as typical bluegrass would be a vast understatement. Their set ranged from fast paced boot stomping numbers to Baltic inspired gypsy sounds. Four part harmonies and wonderfully talented playing combined with the large array of sounds are a unique take on acoustic music. From folky to funky, Head For The Hills brought out the big guns on Friday night. They grabbed my attention from the time I walked into the theater and kept it until they left the stage.
Leftover Salmon: Leftover Salmon have been a staple and huge influence on the Colorado music scene for 20 years now. Their one of a kind brand of self-proclaimed Polyethnic Cajun Slamgrass music has been missed on the Front Range since the band decided to take some time off in 2004. Since then they have played randomly in festivals and a few holiday appearances.   Listen Up Denver! learned in a recent interview with their brand new banjo player, Andy Thorn (read our feature interview with Thorn here), that this was all going to be changing and the Thanksgiving run was the turning point. With new music on the way, and a pumped up touring schedule, Leftover Salmon is ready to reach markets and fans that have been neglected in the past few years.
They took the stage to an uproar. The energy in the room could literally be felt coursing through the hair on the back of your neck as it stood straight up. The anticipation leading up to the shows had everyone in high spirits with nothing but absolute confidence that the next couple of hours were going to be special. Vince Herman started with a phrase that I have been kicking over in my head ever since: "Music is a great thing, it can you heal you in rough times." The Colorado music scene lost an amazing figure and person the day before. "Michigan Mike" Torpie was a great friend to many people and a household name in Nederland where Leftover Salmon laid its roots. The news of his passing saddened everyone who ever came in contact with the man. Vince then said "This show goes out in the memory of Michigan Mike. We're all tangled up in blue and don't what to do. All we can do is take care of our friends and pay attention."
After that hardly a word was said for the next few hours, nothing but beautiful music with friends and family. Starting the show off with Bob Dylan's "Tangled up in Blue" set the tone for the rest of the evening. They played Salmon classics, both old and new and listening back to the show now as I write this has given me goosebumps on my arms. It truly is amazing the power that music has. The next few hours were a blur, but in the best possible way. Andy Thorn proved himself in the eyes of everyone and the rest of the band showed up ready to play. I can't really say a bad word about the performance. I was able to talk to a few Salmon fans during the night and the only words they could muster were "exceptional, absolutely exceptional."
The Salmon sound touches damn near every inch of the musical world. Each member of the band is given the opportunity to display their talents, and talents they surely have. Rock & Roll, Blues, Jazz, Bluegrass, Funk and just about anything else you could imagine possible with live instruments comes from that stage. Formulated in a way to keep feet moving and bodies grooving the entire night. Over the course of two massive set and an encore Leftover Salmon proved themselves as the powerhouse that they have grown to been known as. With the feeling of family and love emulates from their stage, it's no wonder they have the massive following they have acquired.
"Music is a great thing, it can heal you in rough times." That is all I could think about the entire time these guys were on stage. That right there is the absolute truth. These guys have been at it for nearly as long as I have been alive and still love it like it were their first time on stage. With any luck they will be doing it for much, much longer. The show on Friday night surely was one for the record books. I believe in my heart that Michigan Mike would have been proud, in fact I'm sure a part of him was in that room somewhere, smiling ear to ear at the amazing sounds coming from the stage. The show ended with "Rise Up" as everyone in the theater screamed "I'm gonna rise up, wake and bake, early in the morning," in union. As the band slowly left the stage, Vince spoke a few last words into the microphone: "I love you Michigan Mike."  The crowd went on screaming in unison and stomping out a beat for at least three more minutes before the house lights came on. I'm sure I wasn't the only one that left the Ogden feeling the love and feeling healed. It was as close to church as I'll ever get and I can't wait to do it again real soon.
Setlist 
Set 1: Tangled Up In Blue>Pay My Dues> Two Trains Running>Pay My Dues,  Everything Is Round,  The Other Side, Keep On Walking,  Blue Kentucky Sky, Doing My Time,  Euphoria, 
Set 2: Dance On Your Head,  Squirrel Heads and Gravy, Get A Rolling, Oh Eliza!, Light Behind The Rain, Fastest Song, Bend In The River, Junco Partner, I Don't Know You, Ain't Gonna Work Tomorrow> Whole Lotta Love, Can't Get No Better, Breaking Through, Better
Encore: Hot Corn Cold Corn, Dead Flowers, Rise Up
Energy: A+
Sound: A
Musicianship: A
Stage Presence: A+
Set / Light show: A
Overall: A
I rode my skateboard from school in 7th grade to my buddy Vince's house where he put on the song "Perfect Government" by NOFX and I was hooked. The next day I bought the album Duh by Lagwagon. The next year I saw Against Me! at the Starlight Theater in Fort Collins, my mom dropped me off. I've since devoted every waking hour to anything done with passion. My speakerbox bumps everything from Lil' Wayne to Pablo Casals. I was never very good at making music, but I am damn good at listening to it. I've been filling up yellow notepads with random thoughts and misspelled words for as long as I can remember. I enjoy whiskey of all sorts, Newport cigarettes and the company of my family. I've got an addiction to run-on sentences that I'll probably never cure. A solid handshake with a stranger who has become a friend over a few beers means the world to me. You'll often find me wide eyed and wandering with an ear to ear grin. I live for funky break beats and spreading the love.