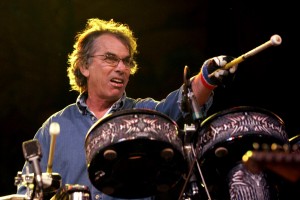 Why You Should Go: Mickey Hart is best known for his nearly three decades as an integral part of an extraordinary expedition into the soul and spirit of music, disguised as the rock and roll band the Grateful Dead. As half of the percussion tandem known as the Rhythm Devils, Mickey and Bill Kreutzmann transcended the conventions of rock drumming. Their extended polyrhythmic excursions were highlights of Grateful Dead shows, introducing the band's audience to an ever-growing arsenal of percussion instruments from around the world. Exposure to these exotic sounds fueled Mickey's desire to learn about the various cultures that produced them.
His tireless study of the world's music led Mickey to many great teachers and collaborators, including his partners in Planet Drum. Planet Drum's self-titled album not only hit #1 on the Billboard World Music Chart, remaining there for 26 weeks, it also received the Grammy for Best World Music Album in 1991— the first Grammy ever awarded in this category. Planet Drum is one of twenty-nine recordings released on Mickey's the WORLD series on Rykodisc. The WORLD offers a wide variety of music from virtually every corner of the globe with releases like Voices of the Rainforest from Papua New Guinea and Living Art, Sounding Spirit: The Bali Sessions. In 2002, Mickey established The Endangered Music Fund to return royalty payments from many of these recordings to the indigenous people that produced them, and to further the preservation of sounds and music from around the globe.  
Venue:
Friday – The Fox Theatre, 4335 W 44th Ave. Denver, CO 80212 – 720/420-0030
Saturday – The Oriental Theater, 3317 E. Colfax Ave, Denver, CO 80206 – 303/377-1666
Doors:
Friday – 8:30 PM
Saturday – 7:00 PM
*Price:
Friday – $25.00 Adv & $30.00 DoS – Buy Tix
Saturday – $25.00 – Buy Tix
*All times and prices are gathered from other sources and we are not responsible for mistakes or inconsistencies. They are intended only as guidelines. Please, always call the venue if you desire the most accurate information possible.