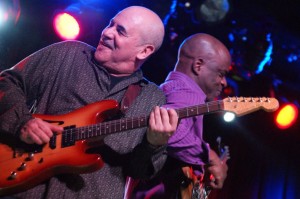 Photo By Jeff Hyatt
The Scene:   The vibe of The Soiled Dove is much different than most venues I am used to; and it was a welcome change. The lighting was intimate and people were well dressed, seated around tables and there was a feeling of placidity and refinement. The crowd was mostly over 45 and probably had music collections that included many forms of jazz amassed over years of looking for the good stuff. We were all there to appreciate the unique styling's of a band that has stood the test of time and never strayed from its initial vision. Spyro Gyra has been classified as pop-jazz, smooth jazz, commercial jazz or fusion jazz; but to me it's just jazz . . . man.
Spyro Gyra: The room had everything to do with how great the night was! The sound system is the best I've heard in Denver and the mix was perfect. Combine that with the fact that I got a seat in the sweet spot of the listening room and . . . well . . . I couldn't have asked for a better setting to hear the at times tranquil, but always rhythmic sounds of this underappreciated ensemble.
This band's career spans 35 years and over 25 albums, and they gave us a good mix of all of it all! From songs off their most current release A Foreign Affair, to "Shaker Song," "Catching the Sun," and "Morning Dance," the lead tracks off of Spyro Gyra's first three albums, it all had that easily identifiable Spyro Gyra sound. Jay Beckenstein is the Saxophone player, leader, and founding member of the band whose line-up has changed several times over the years. Keyboardist Tom Schuman has been with Jay since the late 70's, guitarist Julio Fernandez since 1984, bassist Scott Ambush for the past nineteen years and the 32 year old Josh Dion was sitting in on drums for only a handful of dates on this tour. Regardless of the combination, these guys played amazingly well together!
The rhythm section of Spyro Gyra has always stood out to me as having a ton of Funk and Soul, so I was glad that these dudes were able to hold that groove down! There were multiple times when my chair dancing wasn't enough and I thought I might have to go to the back and properly get down. I wasn't the only one who was feeling the killer energy and I heard shouts of "Do It!," "That's It!" and "Go…Go!" from the audience. I myself was completely wrapped up in the whole scene, shouting along, and barely able to stop moving some part of my body the entire night.
This is a band that is energetic, improvisational, and tight, which is why my uncle John saw them over 20 times in the early part of their career and played their albums so much while I was growing up. He has also seen 200 or so Grateful Dead shows, and has one of the largest music collections I have ever come across. I guess I am trying to show you that it is the true musical lovers and explorers that know and love this band. They never play the same song the same way twice and they are all about the jam!
Jay's sax playing has lightness to it but it is powerful and staggeringly precise. Julio's solos are worthy of arenas, yet he has the gentle touch of a jazz man. Tom can get funky on the keys, and his sound is as linked to Spyro Gyra as Jay's sax but Scott Ambush's bass playing took me by storm! Without the funky bass line, Spyro Gyra' sound could not be complete. Drummer Josh Dion even performed an amazing 5 minute drum solo as the other four left the stage for a quick break. That solo lead into a stellar cover of Bill Withers "Kissing My Love" with Josh on vocals. It was a surprise considering Spyro Gyra focuses on instrumental pieces, but as the rest of the band joined in it really seemed to be a great fit.
The whole night was amazing and has really made me dig deeper in to their catalogue. I got to chat with Jay Beckenstein after the show and he told me a bit about their new album, and why the band has had such longevity.
LUD: Jay, can you tell me about your new album and how it was made?
Jay Beckenstein: I am the leader and founder of the band, but over the years it has turned in a much more democratic direction artistically. When we make records everybody in the band writes…everybody has at least one song on the record. With this one, the marching orders went out that everyone was supposed to write about their impressions of foreign travels . . . and we have had some of the most amazing travels! A Foreign Affair isn't a copy of music from other lands.  In no way could we do another cultures music better than its own people, but we got a lot of spice and flavor from our travels and tried to put it in this record.
LUD: This was the first time I heard you live and I was surprised by the amount of jamming you do!
JB: Oh yeah. We have been together so long that we are very comfortable making it up as we go along. I think we feel best about ourselves when new things emerge on old things.
LUD: And you have 35 years of material to work with! What has kept Spyro Gyra going so long?
JB: Well first of all, it's a really good crew of people. We don't have any ego problems or things like that. And that's from top to bottom. Our manager, road manager, and I were college roommates in Buffalo. So the business end of it has been together for forty years. That part of it has been a really good unit with total honesty. The band itself is made up of very reasonable, and as you saw, talented people who are great to work with. It's a funny thing, but we don't know how to do anything else! No one wants this to go away, they are going to have to drag us away kicking and screaming in an ambulance!
Energy: B
Sound: A+
Musicianship: A
Stage Presence: B
Set / Light show: B
Overall: A-
Brian Turk grew up in the shadow of the Catskill Mountains, near Woodstock, NY. He comes from a family of music lovers, audiopliles, Dead Heads and avid concert goers.The musical magic that can only be created in the Catsklills, both past and present, is what Brian cosiders the epicenter of his music addiction. The music of The Band, and most recently The Levon Helm Band, is the soundtrack of home for him. Brian's mother took him to his first concert at 5years old...it was Johnny Cash and Roseanne Cash at Jones Beach Amphitheatre. For Brian, music is a family affair. He feels the same way about live music...we all convene to celebrate together. Brian's writing life started when he wrote his favorite author, southern fiction writer Clyde Edgerton, a fan letter at age 13. When most kids were idolizing baseball players and television, he was worshipping writers and musicians. The two became friends and Clyde shared his craft with Brian. The next year Brian attended Duke University's Young Writers Camp. This is the extent, of what Brian considers, his "formal" training in writing. From then on his goal was to capture snapshots of life through words. Brian has been involved with live music in various facets over the years, and combined with his enthusiasm and love for Denver's music scene, he creates a vivid description of what he sees and hears. If you see him out at a show, dancing with a notebook in hand, say hello.