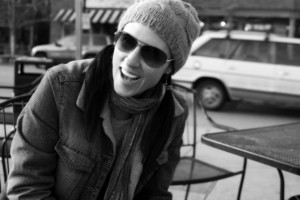 Photo by Isabella Armand
"The black and white tones of Lisa's work bring organization to the chaos and clutter that often accompanies photographs.  Seeing things in shades of grey forced me to pay more attention to lines, textures and shadows. Not distracted by my brain having to think about colors, I could hear the music in her monochromatic images."
-Johne Edge of Stereo-Phonic Photography
Lisa Siciliano's 6th Annual Holiday Rock & Roll Photography Art Show and Sale happened on December 2nd at George's in Boulder. The event featured live music from some great local musicians (including Lisa's daughter and some familiar young faces from the Marquee Magazine camp), food, drink, and of course hundreds of Lisa's black & white Rock & Roll photos on display and for sale.  Between musical acts, Lisa took time to talk to us at Listen Up Denver! about concert photography and why BB King plays the Blues and not Hip-Hop.
Listen Up Denver:  Congratulations on making it into this month's issue of 5280 Magazine.  How does it feel to be acknowledged for your craft in such a big way?
Lisa Siciliano:  It's exciting and weird!  I went to Barnes and Noble and asked where the magazine was because I couldn't find it and the salesmen was like, "You're the fifth person that's asked in the last hour."  I was like, "I bet I'm the only one that has an article in there!"
LUD:  How were you approached for the feature?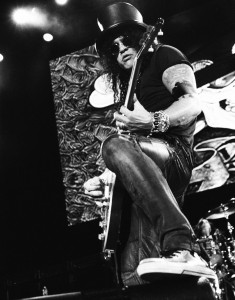 LS:  Well, I did and article for The Daily Camera this summer…a little feature…and someone from 5280 saw it and it went from there.
LUD:  I understand that tonight you're celebrating your sixth annual Holiday Rock and Roll Photography Art show and Sale.  How long have you actually been involved in concert photography and how did you get started?
LS:  I was waitressing at the Fox and my husband was in a band and I had just bought a camera from a neighbor…actually her husband is the drummer for Big Head Todd.  So I was just trying it out and the pictures sucked, but I liked something about it.  Then I randomly got a photo pass out of the blue to shoot Metallica – which is kind of crazy when you're just learning how to take pictures – and I sent that picture to Red Rocks and they hired me from that picture.  It was crazy.  And that was ten years ago.  I was 33 and I'd never even thought about being a photographer.
LUD:  So everything else…your wedding photography business…stemmed from that?
LS:  Yep.  The wedding thing started about six years ago and it's pretty full time in the summertime along with concerts.
LUD:  What have been some of your most memorable moments?
LS:  Ok so one really memorable moment was shooting Limp Bizkit & Cypress Hill back when I just started, a friend knew the Bongo player for Cypress Hill, and he said he could get me a photo pass. He sent us tickets and back stage passes but there was no photo pass. So when my husband and I introduced ourselves and were chatting with Cypress Hill on the bus before the show, I asked about the photo pass, he said "Photo pass? I don't know about no photo pass, just come out on stage with us and you could shoot from there." Apparently it was a media blackout show because it was when they did that tour for Napster and no one had a photo pass. So my husband and I walked out on stage in front of 10,000 people and I took pictures on stage. It was crazy, 'cause I had only shot a handful of shows by then. Unfortunately, I was really timid back then, and the shots aren't really all that good, but it sure was exciting and cool.
Shooting Stevie Wonder was memorable, but only because he, his people I should say, only let us shoot for 60 seconds total! And we couldn't start shooting until his fingers hit the first note. And there were like 20 of us trying to shoot through this tiny little space between his keyboards where you could actually see him…for 60 seconds..and yes someone was timing it.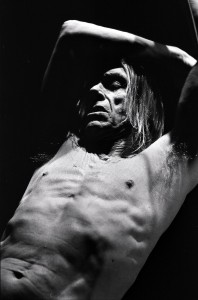 And the last one, 8 months pregnant with Isabella shooting U2 at The Pepsi Center, I was gigantic, she stopped moving for 24 hrs after the show, I had to go to the doctor to make sure she was ok. That was my last concert until I had her.
LUD:  If you could photograph any musician or group…who would it be and why?
LS:  Well, they're all dead and no one ever allows me to name dead people.
Listen Up, Denver:  Go ahead…I don't think the question should be limited to the living.
LS:  Led Zeppelin…I mean, the band is dead. Also, Bob Marley, Nirvana, and Jimi Hendrix. All of them are visually really interesting, which is even more important to me that how hugely famous they are. I mean Jimi with the fire and the teeth.  Nirvana jumped a lot, which I LOVE, and they were a huge influence on me. I was 21 when they came out and after all the crap I had to listen to throughout my teens, I felt like music had been reborn with them. I couldn't believe people my age were playing stuff like that.
Bob Marley's dreads and back-up ladies…just so visually beautiful, and so much movement.
Led Zeppelin was, and is, my favorite band. Just everything about them looked cool and sounded cool. I got to shoot John Paul Jones and sort-of Robert Plant, we had to stand in the back balcony of the Fillmore so it was pointless, but so not the same as shooting them in their prime. I love shooting drummers too and Bonzo was the best! They were all photographed so often…on real film too…..so I don't know if I'd have brought something new to the table or not. But I do know depending on my mood, I see things a whole lot differently than other people so who knows!
LUD:  Why do you prefer black and white images over color?
LS:  Well, I like film and to get black and white good, you have to use film.  It's my personal preference.  I use digital for black and white at weddings, but for this…just the way the stage lighting is and the texture, it looks totally different to me.  The only way I can prove it is to show people the difference side by side and then they totally get it.  Because the face has different creases and it looks totally different.
LUD:  I'm certainly not a photographer, but I know that with black and white it's all about the contrast too….of the blackest black to the whitest white and all the gray tones in between.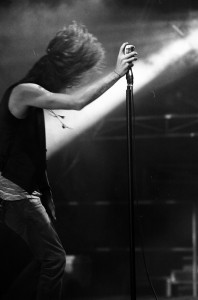 LS:  Exactly, see that's the problem with digital.  That's really hard to do.  You have to spend a lot of time coloring in all the in-between tones.  It doesn't have the same range in it.  Sometimes the venues or the publications I shoot for want color digital also, so I will shoot that for them and also shoot black and white film for myself at the same show. In this way, I have seen my own work side by side, digital versus film and I do feel film really lends itself to black and white.  So many digital concert photos look grey and flat to me. If I have to shoot digital color for a client, and I don't ever show any of that on my site or in my shows. You can find some of those photos in The Red Rocks book & movie. Tides are turning though, and some clients are now allowing me to only shoot black and white film, The Boulder Theater and Marquee Magazine included. So many people get in arguments about film over digital, but it's not a contest, it's just what I prefer.  I mean, why does BB King play the blues and not hip-hop?  So I guess the key sentiment is: different, not better.
LUD:  I imagine you have to be extremely selective with your shots when you're using film.
LS:  Yes, I'm very limited.  Film is expensive, so I usually shoot 70 shots.  If it's a big band I might shoot three rolls…maybe four.  That's 36 to a roll, and usually the first or the last one doesn't even come up, so that's 35 pictures.  But I don't need a million mediocre pictures, I want one amazing picture.
LUD:  Yet you have a true gift for capturing special moments on stage.  What do you look for when composing a shot?
LS:  I just wait for something that connects.  Every moment doesn't mean something to me.  And that's what I don't get when I see other shooters.  I'm not judging, but it's so different for me.  It's a whole difference experience for me.  I'm waiting until I feel this feeling and that's it…that's when I do it.  Sometimes people ask me, "Do you just take a lot of pictures and find a good one?"  And I get so offended, like, "No!  I create that."  And that's what's so frustrating…like everyone that shoots concert photography has to be a media photographer.  You know?  Why do we all have to be lumped together?  Why can't I just go in there and be an artist? Why do I have to shoot for this magazine in order to get in to do my art when you can just get on stage and play your art?  The whole thing of an artist, as a rock photographer, has gone away…we're all media photographers.
I also am really particular about what I let out there, only the best stuff. I think these days with so much digital media, blogs, Facebook, Flickr, etc., people show so much stuff that is just okay at best. I really feel that being super picky about what I show people has made a gigantic difference in my career. Just like I am really choosy about when I click the shutter, I'm also really choosy about what I print and share.
LUD:  What are some of your personal favorites from tonight's collection and why?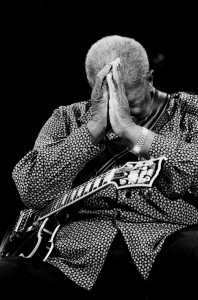 LS:  There's so many…and they change.  But this one is always a favorite [points to a BB King shot with his head bowed and his hands folded as if in prayer].  I gave this to his driver.  I've never done that before.  My daughter came with me to that show and after I was done shooting he came over to the side of the stage and asked her name and shook her hand.  My profile picture [on Facebook] is actually from that moment because he leaned over to me to ask me what her name was.   She was on top of the moon afterwards.  She said his hands are so soft!
LUD:  Last question, for folks that may have missed tonight's show.  How can they view, and or purchase, your work?
LS:  Visit www.dogdazephoto.com.  You can't buy the photos there because they're film.  You can't just click the basket and order them, but go there and write me.
Though the show is over, Lisa's work stays on the walls of George's in Boulder for much of the year.  If you missed this event you owe it to yourself to check out Lisa's work, either in person or on her website.  Remember, with the Holidays right around the corner, one of Lisa's Rock & Roll prints would make a great gift!