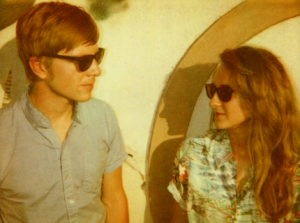 TENNIS
The Bluebird Theatre
Thursday, February 16th
Tickets: $12.50 Adv, $15.00 DoS
On-Sale: 1/7/2012
PURCHASE HERE
The much-anticipated second album from Denver-based Tennis, Young and Old, is set for release February 14, 2012 on Fat Possum Records. Their widely praised debut Cape Dory, which The Wall Street Journal called "a winsome set of breezy pop songs," was released earlier this year. For their forthcoming album guitarist Patrick Riley, vocalist Aliana Moore and drummer James Barone headed to Nashville to work with The Black Keys' Patrick Carney. The first single from these sessions, "Origins," is out now on limited edition on blue 7" vinyl via Forest Family Records. Over the last few months, Tennis has also released a series of covers as free downloads including "Is It True" by Brenda Lee and their take of "Tell Her No" by The Zombies. This week they unveiled a new cover track—"Tears In The Typing Pool" by Broadcast—on NME.com along with new run of U.S. tour dates. Tennis kick off their U.S. tour with an album release show at The Bluebird Theatre on February 16th.
After the success of their first album and touring for the better part of a year that included shows as far away as Moscow, Riley and Moore returned home and realized what was initially a bedroom-recording project had quickly evolved into a band. The challenge of a second record was upon them, but songwriting came quickly and in three months the duo had most of the material for their new album. The goal this time was to mature and vary their sound. Riley describes the new direction as "Stevie Nicks going through a Motown phase." By the time they hooked up with Carney, they had fleshed out most of the songs that would comprise Young and Old. With their friend and mentor at the producer helm, the recording progressed naturally and within three weeks the album was done. While their debut was written with a third touring member in mind, the new album is written and recorded with the addition of a fourth.
Tennis was born of Riley and Moore's nearly seven-month sailing trip, which consisted of selling all their possessions, purchasing an old sailboat, repairing it, and cruising up and down the eastern seaboard. Upon returning home, the duo began writing music together as a way to document the history of their shared experience. The result was Cape Dory, an intimate and concise recollection of life on a 30-foot sloop. Tennis received more than 50 thousand listens to the free tracks they posted online and was promptly signed to Fat Possum Records.
Tennis – Origins by fuckyesmusic.com
Tennis Tour Schedule
February 16 /// Bluebird Theater /// Denver, CO
February 22 /// Slowdown /// Omaha, NE
February 24 /// High Noon Saloon /// Madison, WI
February 26 /// Lincoln Hall /// Chicago, IL
February 27 /// Radio Radio /// Indianapolis, IN
February 28 /// Grog Shop /// Cleveland, OH
February 29 /// Horseshoe Tavern /// Toronto, ON
March 2 /// Brighton Music Hall /// Boston, MA
March 3 /// Bowery Ballroom /// New York, NY
March 6 /// Union Transfer /// Philadelphia, PA
March 7 /// Black Cat /// Washington, DC
March 9 /// Local 506 /// Chapel Hill, NC
March 10 /// The Earl /// Atlanta, GA
March 11 /// Orange You Glad Festival /// Orlando, FL