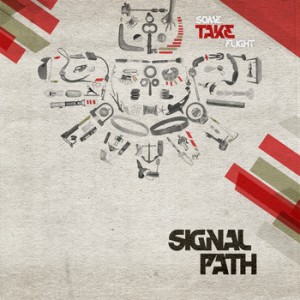 The genre of Livetronica blends live instrumentation and laptop fueled Electronica in a unique way and Colorado's thin mountain air must allow these elements to combine better than anywhere else, as three of the best examples of this genre are from our state: EOTO, Signal Path, and Octopus Nebula.
Signal Path closed out their four-part seasonal EP project this winter with their latest release Some Take Flight. Since the hometown trio of Ryan Burnett, Damon Metzner, and Matt Schumacher released the EP right before the holiday,we wanted  to get this review out there to make sure that no one missed this final installment in the band's 2011 "quadrILLogy." This three song EP builds on the sound of the the earlier installments and it continues to push the boundaries of electronic music found on fall's Souls Unswayed, summer's Minds Make Lights, and spring's The Prosaic Fades. Some Take Flight opens up with "Think About Your Mind," a glitch and bass heavy number that is sure to please. Next up is "North Denver Hustle" probably this writers favorite track on the album. This mid-tempo number blends a Grateful Dead like sound with electronica elements to create a vibe that is uniquely Denver, think "Shakedown Street" meets Colfax.  Last but not least is, "Cold Creatures" features vocals by San Diego based hip-hop and Electronica artist Vokab Kompany who add funk to the project and also appeared in "Gangsterer Than Me," a track from the first installment of the "quadrILLogy."
With the project now complete,  the band has made all four EPs available absolutely free through their website.  So go and download any one, or all four, and join me in watching for big things from Signal Path in 2012.

Wherever the music is, you'll find me with my camera, shooting on street corners, from barstools at clubs, from the side of the stage at theaters, and from photo pits in places like Red Rocks. Clicking away, trying to capture the emotive essence of music, and all those moments that we forget because of one too many Pabst Blue Ribbons.