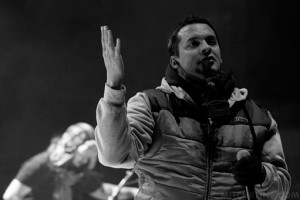 Photos By Mitch Kline
The Scene: When rumblings of a winter concert at Red Rocks starting floating around a few months ago almost everyone thought it was a joke. Red Rocks is the summer getaway spot for thousands of people every year. Last Friday night marked a milestone in the history of the venue; it was the first ever winter concert between the monoliths and Minnesota natives Atmosphere were asked to be the ones to headline this momentous occasion.
It was certainly interesting pulling up to the venue and not seeing a massively raging party in the parking lot. The temperature was definitely the reason for this as people clamored up the stairs and ramps into the sold-out venue covered in layers of clothing and winter attire. I threw on my whiskey blanket and a pair of gloves for the walk up to the venue as I could hear Common finishing up his set.
Unfortunately I couldn't get to the venue in time to catch any of the Chicago emcee, but in all honestly the only one I really wanted to see was Slug. His music is responsible for a lot of who I am today as the music of Slug and Atmosphere were hugely influential in my decision to take a step outside of Punk Rock and give something new a chance.
Atmosphere: Rhymesayers Entertainment is a staple name in the hip hop community and thanks to Slug and Atmosphere they have made their way to the front of the line of "underground" labels. It's no wonder why Slug and everyone involved was so excited about being a part of the first ever winter Red Rocks show. Being that they are based in Minneapolis, the cold weather was sure to not have much effect on the band. In fact when the group came out on stage a few of them were wearing T-shirts.
After a short DJ set of groove infused Hip-Hop hits and classics spun by fellow Minneapolis DJ's, Get Cryphy, Slug came out and launched into the title track off of Atmosphere's 2002 release God Loves Ugly.  The heavy lyrics got the packed crowd to cram in tight and sing at the top of their lungs along with the emcee on stage.
Early in the set a light snow began to fall and it hung around for the rest of the night. Although it was snowing, the night was clear and you really couldn't have asked for a better night in the middle of a Colorado winter. Slug didn't waste too much time on talking, only stopping a few times to quirk on the one of a kind slang kids in Colorado seem to have and mention the outrageous music scene we have in Colorado, saying that we do everything first and we "do it right." The energy between the rocks was absolutely at an all-time high. The voices of thousands of people echoed the lyrics of all of Slug's classic tracks that a lot of us grew up on.
He touched on every part of his long career rendering the frigid 14 degree temperature almost completely unnoticeable. Hitting on not only upbeat happy songs, they also played my personal favorite, "Scapegoat," which changed my life and held my Walkman captive for months on end when I first discovered it. I couldn't even help myself from getting emotional throughout the evening. With my hands in the air I forgot at times that I was supposed to be paying extra attention to the show in order to write this review.
You could hear in the clarity of Slug's voice, and precision of Ant's scratching on the ones and twos, that they were likely more excited to be there than most of the people who started filtering out as the chill became a little too much. As the whiskey blanket I had put on earlier began to disappear, I stuck around as long as my toes could handle it but finally had to succumb to the cold. I felt as if I had gotten everything I needed from the evening. It was magical to be a part of such a momentous and historically significant night for Colorado Music. After "Sunshine" we had to high tail it to the warmth of a vehicle. I had lost the gloves I showed up wearing, or maybe I threw them in excitement. My fingers and nose may have been nearly frozen, but my heart was feeling "sunshine, nothing but sunshine."
In my humble opinion the first winter show at Red Rocks was an absolute success in every which way. The only thing I regret about last Friday night was not arriving early enough to see Common, who I'm sure absolutely killed it as well. It may have been a toss-up early on whether the show would be a hit or miss, but by the end of the night it was obvious that Icelantic had hit a home run and this would not be the last winter show at Red Rocks. I can't wait for another chance to dance my ass off while I stare into the sky and snow falls around me.
Energy: A
Sound: A
Musicianship: A
Stage Presence: A
Set/Light show: C
Total: A
I rode my skateboard from school in 7th grade to my buddy Vince's house where he put on the song "Perfect Government" by NOFX and I was hooked. The next day I bought the album Duh by Lagwagon. The next year I saw Against Me! at the Starlight Theater in Fort Collins, my mom dropped me off. I've since devoted every waking hour to anything done with passion. My speakerbox bumps everything from Lil' Wayne to Pablo Casals. I was never very good at making music, but I am damn good at listening to it. I've been filling up yellow notepads with random thoughts and misspelled words for as long as I can remember. I enjoy whiskey of all sorts, Newport cigarettes and the company of my family. I've got an addiction to run-on sentences that I'll probably never cure. A solid handshake with a stranger who has become a friend over a few beers means the world to me. You'll often find me wide eyed and wandering with an ear to ear grin. I live for funky break beats and spreading the love.