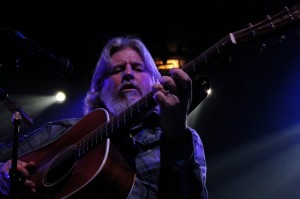 Photos by Jon Prins
The Scene:  Surprisingly, Saturday's Emmitt-Nershi Band (ENB) show at The Bluebird looks like it flew under many people's radar as The Motet's "Best Of Halloween" show over on the other side of town drew the biggest buzz of the night.  Turns out the lack of buzz didn't matter much as the Colorado Bluegrass faithful flocked to the Bluebird in droves and packed the place. Drew Emmitt (Leftover Salmon) and Bill Nershi (String Cheese Incident) are local legends in the acoustic world, while the other half of the band, Andy Thorn (Leftover Salmon, Grant Farm) and Johnny Grub (formely of Railroad Earth) are somewhat new to the scene. Together they make up the Emmitt-Nershi Band who fuse together Drew Emmitt and Bill Nershi staples, ENB originals, and other various old timey Bluegrass songs; heavenly bliss for Leftover and String Cheese fans or plain ol' acoustic music enthusiasts.
Emmitt Nershi Band:  The venue was packed almost to capacity when the band finally took the stage.  After the thunderous ovation, the band tore into the ENB original "Gold Hill Line," about the little mountain town of Gold Hill. Drew Emmitt serenading the crowd about this beloved Colorado mountain town is always a good way to kick off any ENB show.  From there the band slid into a pair of covers, "Rolling in my Sweet Baby's Arms" and Bob Dylan's "Tangled up in Blue" with Drew Emmitt singing the latter number. The next highlight of the night was "Mango Tango" from their latest album of the same name.  Bill Nershi took this number to different places with his incredible flat picking as the band locked together in a jam that really got the crowd grooving.
After a mix of both covers and originals, the band finally settled into the Bill Nershi favorite "Texas." Once the familiar riff of this song hit our ears, the crowd erupted into a frenzy. Nershi lead the group through a short but sweet rendition and I couldn't help but think how nice it was to see this song stripped down compared to the wild circus it can become at a SCI show. "Wild Bill Jones" was sandwiched between a crowd pleasing cover of Guns N' Roses "Sweet Child  O' Mine" that featured Andy Thorn on lead vocals. I was definitely shocked by this one, especially after Drew Emmitt introduced it by saying, "now Andy is gonna sing an old time Bluegrass nubmer." As cheesy a moment as this was, many were really pleased with this sing along favorite.  After the silliness of the GNR cover, it was time to get serious with a raging version of Bill Nershi's "Black Clouds;" a cherished number to all the Cheeseheads in attendance. From there "Long Road" led into the Tony Rice's "Old Train," a great tune off of his famed Manzanita record.
The Emmitt-Nershi Band is a classic Colorado Jamgrass band. Their sound and style fit this area so well and their fans run in familiar circles as many of them have been seeing both Billy and Drew in their main projects for many many years. This type of community along with incredible music is bound to lead to an amazing night. Blending Billy and Drew songs with a colorful variety of covers, ENB amazes newcomers while satisfying their long time faithful.  The band has been supporting their new release, Mango Tango, on this tour so do yourself a favor and check out the album and go see these guys when they come back to town.
Energy: A+
Sound: A
Musicianship: A+
Stage Presence: A
Set/Light show: B
Overall: A
I am a live music junkie, photographer, traveler and free spirit living in Boulder, CO. Going and seeing live music is my passion. Taking photos of various subjects has become a very enjoyable hobby for me over the years. Going out and capturing live music, scenic landscapes and candid shots of people are what I really like best.