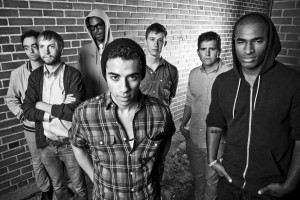 The Scene: The Aggie was not packed to the gills but there was a solid Sunday night crowd for Air Dubai's show this past weekend. The Denver based hip-poppers were wrapping up a four-night Colorado tour with Chicago based funk-pop-rock outfit Kids These Days. While some of the crowd looked a little dazed from a long weekend of avoiding assignments, the majority was grooving hard so the bands had lots of energy to draw from for their performances. I could not quite hear the raps and vocals clearly throughout the evening but it seemed like we were supposed to have fun and we did. The Aggie's 105 years of concert history are a testament to Colorado's truly bumping, if occasionally cowhide covered, past.
Opener: Bop Skizzum. Denver group Bop Skizzum opened the night handily. Julie and Andy fronted the Skizzumites with energy and skill, pumping up the crowd.  As a side note, Bop Skizzum's "Nerd-Prom" is happening at The Gothic on February 10 and the contest for king and queen is on now on their Facebook page.
Opener: Kids These Days. Chicago-based and youthful, Kids These Days are about to take the world by storm. I fully recommend destroying any Justin Bieber and Glee materials your children have and replacing it with the genuine, and real-world, musical role model that is this band. Seriously, I got their EP Hard Times (you can iTunes it, but it won't be signed like mine is) and love it.
Macie, Vic, and JP (keys/vox, rapper, and trombone respectively) told me the band got together from a couple of different high schools and now that everyone has graduated they are touring and playing their music for the people. They have some room to grow from their current skill set but if Kids These Days are any indication of a trend in America, the kids are alright! If you happen to be in the Midwest in April, Air Dubai is touring Kids These Days turf, it'll be a double bill worth catching.
Air Dubai: If you've only read about this band it is high time you got out and saw them! There is just so much energy and music to enjoy from these Denver based hip-poppers. All of the members of the band contribute accomplished musical styling and finesse to a create very danceable and fun sound.
Jon Shockness and Julian Thomas (vocalists) started working together in 2008. Julian and Jon have their John and Paul hats on in the sense that they provide separate but complimentary guiding spirits for Air Dubai to form itself around. Julian is generally the cool rapper to Jon's smooth singing. The group breaks its own path through the music-space continuum with it's legion of fans close behind.
Air Dubai's show Sunday was widely accessible. They have a big future from what I saw and heard. If you want to be able to say you "saw them before" you better see them soon because their wave is starting to break. The great show they put on at the end of a long weekend demonstrates an ability that will serve them well in their travels (which include SXSW in Austin later this year). Be sure to buy Air Dubai's great six-track album Day Escape and turn your headphones into party central until you catch their next live show!
Energy: A
Sound: B-
Musicianship: A-
Stage Presence: A
Set/Lights: B-
Overall: B+

Tim is a an avid lover of music and pursues this passion as a creator and audience member. Tim will give any organized noise made in some way by a human a fair listen. He likes to experience authenticity in a musician's work and share what he finds with his readers. Denver's diverse musical scene is a great playground for these pursuits. Tim's Denver University honed musical understanding and coal-mining mamma give him a unique and informed perspective on all music, from classical to hip hop. He performs with Stoned Wallabies, a horn section equipped rock band, and Orquesta La Brava, a popular salsa band.