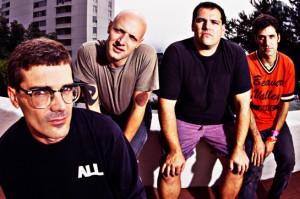 The Scene: Usually when you think of "Punk Rock" the image of grungy basement dives and tatted-out hoodlums comes to mind. At least that's the way it was for a long time. You'd never expect to see one of your favorite Punk Rock bands sell-out one of the larger venues in town, let alone want to see them there. Part of the glory that comes with being a punk rocker is the intimacy of the live performance. Being able to feel the sweat drip off the shirtless screamer on stage or the urge to fight your way to the front in order to jump off the stage and be carried away by a crowd of strangers. At least that's how it was until all of your favorite bands grew up, got families and quit touring.
So when punk icons The Descendents announced they would be playing one show and it would be in Denver at The Fillmore, you can imagine the joy felt by many and shit talked by many more. Why such a large venue? Why only this one show? None of that really mattered; growing up with Punk Rock I learned that people just like to talk shit. Everyone was there to show support for one of the pioneers of the sound. Although the crowd was spotted with grey hair as was lead singer Milo Aukerman's head, there were still glimpses of hopeful patched up jacketed youth and a healthy mix of all ages ready to have one of the greatest bands of all time show them why it was ok to play a punk rock show in such a large open space.
Descendents: Now this type of thing may not be everyone's cup of tea, but if you were ever young, hopeless, and full of angst, then The Descendents have probably spoken to you on more than one occasion. And, if they haven't, it's never too late to go pick up one of their many classic albums.
I practically had to sprint through the ticket line because I showed up late to the show in perfect Punk Rock fashion. As the lyrics "I know some day I'll be the only one," the chorus from "Hope,"  echoed over the sound system I knew right away that this wasn't just going to be a normal Descendents performance, this was going to be a greatest hits show.
By the third song everyone's inner child was starting to show. It was refreshing to see folks a good 10 years older than me singing along to the adolescent anthem "I Don't Want to Grow Up." As the set progressed, it was literally a collection of every song I'd skip to immediately on all of their albums. Not only rocking out the deeper (if you can even call them that) songs, they also took the time to shuffle through the short fun tracks such as "Here In My Van" and "All."
The venue may not have been sold-out or packed to the brim, but once you got close to the stage you couldn't tell. The mosh pit was raging as crowd surfers sailed on a sea of hands and arms flailed in the dense crowd. The sound quality at the Fillmore has never been great, but I feel that the Descendents sound worked perfectly since Punk Rock is not about perfection; It's about the energy and camaraderie which were both at high levels.
They played one long set of short songs, then graced everyone with not one but two short encores. Although the show may appear a bit short on paper, as it was happening time was irrelevant. It was a blast into the pasts and I know I wasn't the only one that got to cross "The Descendents" off my musical bucket list after the performance was over. They played every song I wanted hear and even a few I forgot that I wanted to hear. It may have been a bit nostalgic at times but that didn't change the primal urge I had to plow my way through the crowd and push around a few of my best friends while singing along to the songs that made me who I am today.
Set List:
Hope, Rotting Out, I Don't Want to Grow Up, Nothing With You, My Dad Sucks, Here in My Van, Talking, Weinerschnitzel, All!, Pervert, Clean Sheets, Myage, All-O-Gistics, Everything Sucks, Silly Girl, I Like Food, I'm the One, I Wanna Be a Bear, When I Get Old, Suburban Home, Coffee Mug, Get the Time, Coolidge, I'm Not a Loser
Encore 1: Sour Gapes, Bikeage , Thank You
Encore 2: Catalina, Kabuki Girl
Energy: A+
Sound: B
Muscianship: B
Stage Presence: A
Set/Light Show: C-
Overall: A-

I rode my skateboard from school in 7th grade to my buddy Vince's house where he put on the song "Perfect Government" by NOFX and I was hooked. The next day I bought the album Duh by Lagwagon. The next year I saw Against Me! at the Starlight Theater in Fort Collins, my mom dropped me off. I've since devoted every waking hour to anything done with passion. My speakerbox bumps everything from Lil' Wayne to Pablo Casals. I was never very good at making music, but I am damn good at listening to it. I've been filling up yellow notepads with random thoughts and misspelled words for as long as I can remember. I enjoy whiskey of all sorts, Newport cigarettes and the company of my family. I've got an addiction to run-on sentences that I'll probably never cure. A solid handshake with a stranger who has become a friend over a few beers means the world to me. You'll often find me wide eyed and wandering with an ear to ear grin. I live for funky break beats and spreading the love.