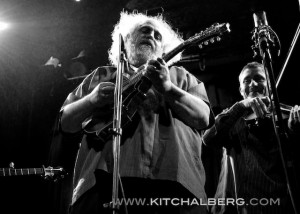 Photos by Kit Chalberg
The Scene: After almost 20 inches of snow and a couple days of hibernation, I figured The Ogden Theatre would be packed with people ready to shake the cold off by dancing to some Bluegrass. I walked in as opener Good Gravy was finishing their last song, and I was shocked that the place was only about a quarter full. It just didn't make sense to me. Colorado has a huge Bluegrass scene; The Telluride Bluegrass Festival is held for three days, but talked about the other 362, and Yonder Mountain String Band, String Cheese Incident, Railroad Earth, Greensky Bluegrass, Trampled by Turtles and Head For The Hills all pack houses any time they play. I kinda figured that when one of the men who first brought the worlds of Bluegrass and Jamband together came to town, more people would jump on the opportunity to see him. I ran into a member of a local Jamgrass band and asked if the other members were there. He responded, "No man. All my friends are at Lotus." That statement says a lot. I realized a lot of Jamgrass fans prefer the Jam over the Grass, and that Colorado's Bluegrass scene is lacking the presence of the traditional form of the music.
The crowd was made up of all kinds of people. Some came out because they are fans of David "Dawg" Grisman's unique blend of jazz, old world music, and bluegrass, called Dawg Music. Others came because they wanted to hear the traditional Bluegrass tunes, and some because of Grisman's association with Jerry Garcia. The work of Grisman and Garcia introduced traditional Bluegrass to many Dead Heads, and their fateful meeting in 1964 is one of the things all the above mentioned bands ultimately owe their existence to.
The David Grisman Bluegrass Experience: Grisman has composed, recorded, produced, and performed all kinds of Bluegrass and acoustic music over almost half a century, but this night focused on the roots. It was an all-acoustic history lesson with plenty of commentary by the Dawg himself. The night started off with the traditional "My Walking Shoes," and three men sang a sweet bluegrass whine into one microphone. It was high energy, and by now the place had started to fill up a bit more. At no point was the room packed, but it did get to more than half full before the night was over.
I love hearing Grisman's interpretations of traditional songs. "Roving Gambler" was first recorded in 1924 by a woman from the Great Smokey Mountains of North Carolina, yet Grisman and the boys were able to make people of all ages dance to it. His lightning fast picking and the jolly smile on his face got the place roaring like a crowd twice the size.
Grisman and the rest of the members of his Bluegrass Experience have been performing for almost ten years, but he has known the upright Bass player since the day he was born. Grisman's son Samson took the lead on vocals for "Rise When the Rooster Crows," and his thumping bass shook new life into a song that has been played for generations. Seeing the father and son up there made me think of how important that kind of legacy is in Bluegrass. Never have I seen musicians encourage each other more than in the world of Bluegrass, and the lyrics, licks, and lore have been handed down for generations.
True to the legacy, The David Grisman Bluegrass Experience played songs by Bill Monroe and the Bluegrass Boys, The Stanley Brothers, and The Carter Family. The men behind Grisman played some of the most authentic bluegrass I have heard in a while, and the night was filled with stellar musicianship on Banjo, Fiddle, Guitar, Mandolin, and upright Bass. There was nothing sloppy, and when they played fast, it was clear as a bell.
When the band came out for an encore we finally got to hear some Dawg music. They played Grisman's original tune, "Happy Birthday Bill Monroe" before ending the night with Bill Monroe's "Last Days on Earth," which started off slow, but built to a rowdy peak.
Hearing The David Grisman Bluegrass Experience took me back to the first time I ever heard the music played in front of me. I was thirteen years old, and I ate pork someone pulled right off the pig as I watched Bluegrass bands perform on a flatbed trailer. I don't get to hear that kind of Bluegrass enough in Denver. When it comes to the Jamgrass, I prefer the Grass over the Jam; and when it comes to Bluegrass, I want it as authentic as possible. In the end, everyone seemed genuinely grateful that we got to see some real bluegrass, and in the process, got a history lesson from a man who doesn't just play Bluegrass music, but lives it.
Energy: A
Sound: A
Musicianship: A+
Stage Presence: A
Set/Light Show: B-
Overall: A-
Brian Turk grew up in the shadow of the Catskill Mountains, near Woodstock, NY. He comes from a family of music lovers, audiopliles, Dead Heads and avid concert goers.The musical magic that can only be created in the Catsklills, both past and present, is what Brian cosiders the epicenter of his music addiction. The music of The Band, and most recently The Levon Helm Band, is the soundtrack of home for him. Brian's mother took him to his first concert at 5years old...it was Johnny Cash and Roseanne Cash at Jones Beach Amphitheatre. For Brian, music is a family affair. He feels the same way about live music...we all convene to celebrate together. Brian's writing life started when he wrote his favorite author, southern fiction writer Clyde Edgerton, a fan letter at age 13. When most kids were idolizing baseball players and television, he was worshipping writers and musicians. The two became friends and Clyde shared his craft with Brian. The next year Brian attended Duke University's Young Writers Camp. This is the extent, of what Brian considers, his "formal" training in writing. From then on his goal was to capture snapshots of life through words. Brian has been involved with live music in various facets over the years, and combined with his enthusiasm and love for Denver's music scene, he creates a vivid description of what he sees and hears. If you see him out at a show, dancing with a notebook in hand, say hello.