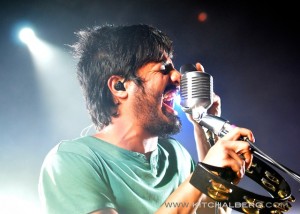 Photos by Kit Chalberg
The Scene: The Ogden Theatre looked more like the Cherry Creek Mall than a music venue on Saturday as hordes of dolled up twenty something ladies gathered for a big night out. As they entered in droves, I began to wonder if the venue had hung up a "Ladies Drink Free" sign somewhere outside. There seriously must have been four girls for every guy! There was no sign, and although the booze wasn't free, they all decided to drink like it was anyway. Most of the shows I go to have a beer crowd who stay pretty focused on the music. This was a top shelf mixed drink crowd who stayed focused on socializing as they took pictures to post on social networks.
Young the Giant has rapidly gained recognition since they signed to a record label, lost a member, and changed their name. From 2004-2009 when they were known as The Jakes, and their EP had gotten local radio play in southern California and that's about it. In 2010, five of The Jakes hit the studio under the name Young the Giant. Since then they recorded and released a full length album, performed their music at the MTV Video Music Awards, and broke into The Billbord Hot 100 chart. They have gotten "popular" and have quickly built a radio friendly fan base that loves to keep up with what is "popular." I think a lot people bought tickets just to use the place for a photo shoot! Dressing up, getting together, drinking, and taking pictures for Facebook seemed to be more important than the music for a good part of the crowd.
Opener: Walk The Moon. Wow! This energetic group from Cincinnati had my attention their entire set.  Their pop vocals and harmonies anchored an extremely danceable, and almost 80's New Wave, indie-rock sound that kept the crowd moving the entire time. The band was having so much fun on stage that it was instantly contagious!
The crowd obviously loved these guys as much as I did, and two songs into the set people started flocking to the merch table set up in the back of the main room. As CDs, stickers, and shirts exchanged hands, people left kind words with the tour manager. None of it seemed to surprise him, and that table stayed busy the entire night.
As I danced to the thick bass lines, computer generated sounds and drum beats rocked the walls during "Lisa Baby." "The Liftaway" had all four members contributing to harmonies, and the tribal drum beats seemed to go well with the paint on their faces.
It was their cover of "White Winter Hymnal" by the Fleet Foxes that really let their lyrical styling shine. It was a great choice for a cover, and they were all over it. It was great to see an opening band that just totally took me by surprise. There honestly wasn't a thing about their set that I didn't enjoy. I normally am not into music that can be described as indie rock, pop or New Wave, but these guys got me.
Young the Giant: So, you might be thinking, "If he is not normally into indie rock and pop music, what the hell was he doing at Young the Giant?" Ahh, good question. Once in a while I get convinced to go check out a band I normally wouldn't go see. This is one of those cases. I keep doing it because a lot of these suggestions turn out to be great nights, even if I don't leave absolutely loving their music.
Young the Giant took to the stage and singer Sameer Gadhia released pure emotion. His voice can have a sweetness at times and a growl others. As he sang "I Got," he bounced between two microphones that were set up in front of him on stage.  He used a vintage style microphone for when he wanted effects in his voice, and a standard one for the straight up singing. "Gun's Out" got people's hands in the air and Gadhia's stage presence reached out into the crowd as he aggressively shook a tambourine and quivered on the stage.
Before playing "Shake My Hand," Gadhia told the crowd "this is an old song of ours. Sing along if you want." Oh, I think they were planning on it. The kick drum intro pounded my insides as tons of girls chatted away around me. Gadhia's frantic dancing made the ladies go nuts, especially a group against the rail in front of the stage. Our photographer, Kit Chalberg, passed on the fact that they told him they had been standing in front of the Ogden since noon to get that spot.
There was still a study stream of people at Walk the Moon's merch booth, and the members of the band stood behind the table giddily singing along to "12 Fingers."  The first few notes of "Cough Syrup" had girls holding their drinks in the air and singing along as sticky booze splashed out of their cups. Gadhia convulsed and shimmied on stage with veins and muscles popping out of his neck, and when he held the microphone out into the crowd, the whole damn place sang along.
Young the Giant played a couple of new songs during the night, and "Camera" was one of them. Gadhia took a seat behind a keyboard and the slower and more dramatic pace of the song lost some of the crowd. "St. Walker" brought the energy of the night back to where it was, and the electronically generated bass was hitting hard. They closed the night out with "My Body," and it was a strong finish for sure.
Young the Giant can put on a hell of a show, but I can't say I fell in love with their music.   Gadhia seemed to be the only thing that stood out from the band. On the other hand, Walk the Moon slapped me across the face with a sound that was fresh and unique. Both bands put on a great show from start to finish, even though I may never listen to Young the Giant again. 
Energy: A
Sound: B+
Musicianship: B+
Stage Presence: A
Set/Light Show: A
Overall: A-
Brian Turk grew up in the shadow of the Catskill Mountains, near Woodstock, NY. He comes from a family of music lovers, audiopliles, Dead Heads and avid concert goers.The musical magic that can only be created in the Catsklills, both past and present, is what Brian cosiders the epicenter of his music addiction. The music of The Band, and most recently The Levon Helm Band, is the soundtrack of home for him. Brian's mother took him to his first concert at 5years old...it was Johnny Cash and Roseanne Cash at Jones Beach Amphitheatre. For Brian, music is a family affair. He feels the same way about live music...we all convene to celebrate together. Brian's writing life started when he wrote his favorite author, southern fiction writer Clyde Edgerton, a fan letter at age 13. When most kids were idolizing baseball players and television, he was worshipping writers and musicians. The two became friends and Clyde shared his craft with Brian. The next year Brian attended Duke University's Young Writers Camp. This is the extent, of what Brian considers, his "formal" training in writing. From then on his goal was to capture snapshots of life through words. Brian has been involved with live music in various facets over the years, and combined with his enthusiasm and love for Denver's music scene, he creates a vivid description of what he sees and hears. If you see him out at a show, dancing with a notebook in hand, say hello.