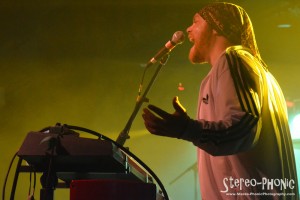 Photos by Johne Edge
The Scene: Denver's Five Points was the Jazz Mecca of the American West from the 20's to the mid 50's.  Back then Welton Street was the place to be, with its clubs featuring musical greats like Louis Armstrong and Billie Holiday.  Promoting a theory of the avant-garde, Cervantes Masterpiece Ballroom and Cervantes' Other Side strive to help the Five Points neighborhood reclaim its former standing as the place to be for music.  It is events like last Saturday's shameless dance party with Juno What?! that have once again begun to expand the boundaries of Denver's live music experience.
Opener: SunSquabi. With Phil Lesh and Friends playing The 1stBank Center at the same time, the night started out a little slow when the Boulder based band SunSquabi took to the stage.  Don't let the Jamtronica misnomer that is often associated with this band fool you.  Yes, there are synthesizers and loops that are a part of the band's Livetronica sound, but first and foremost they are talented musicians.  In fact, during their first song of the night their computer went down on them and they just kept playing.  Playing so well in fact, that I don't think anybody even noticed what had happened.   The bar staff's stiff drinks and fast service began to get the crowd lubricated enough to dance and by the end of SunSquabi's set as the floor and balcony were quickly filling up.  Having recently won the Waka Winter Classic, these guys have proven that they are an act to keep an eye on.
Opener: Atomga.  While bands like SunSquabi  and Juno What?! create walls of sound by incorporating loops and samples, Atomga does it the old fashioned way.  If they want to create a bigger sound they just add another musician…or so I am guessing since the band is made up of twelve performers.  Playing Afro-Beat standards and original material, this high energy group is known for packing Denver's dance floors and getting the crowd ready for headliners like Juno What?!, SEE-I, and The Pimps of Joytime.  If you have not caught these guys yet, do yourself a favor and check them out.
Juno What?!: I don't know if it was the hip swaying rhythmic back beat of Dave Watts on the drums or the soulful but suggestive talkbox vocals of Joey Porter and Steve Watkins, but the ladies were up and shaking it as soon as Juno What?! took the stage.  Any space that might have opened up on the dance floor from folks who had gone out for a smoke, or to grab another drink between bands, was quickly filled.   The trio,  along with some guest appearances from other members of The Motet, played a set of high energy, booty shaking, neo-funk that delivered on the band's promise of a shameless dance party.   Juno What?! was definitely funkin' anything that moved, and perhaps the line from the song "Shameless" best sums up the night,  "Don't need no birth control, when we are doing it to your ear hole, baby."
Energy: A+
Sound: A-
Musicianship: A
Stage Presence: A
Set/Light show: B
Overall: A
Wherever the music is, you'll find me with my camera, shooting on street corners, from barstools at clubs, from the side of the stage at theaters, and from photo pits in places like Red Rocks. Clicking away, trying to capture the emotive essence of music, and all those moments that we forget because of one too many Pabst Blue Ribbons.