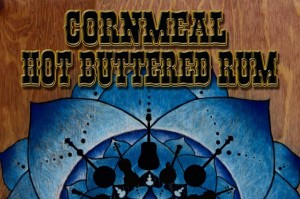 Why You Should Go: Saturday night, The Ogden will feature a stunning double bill of two of the best young bands on the Jamgrass scene these days.  Cornmeal has grown from humble beginnings into a nationally recognized live music institution. Heavily influenced by American roots and folk music, the band blends lightning fast tempos and impeccable harmonies into an unrivaled live performance that continues to expand upon the five-piece acoustic-electric groups' vast musical repertoire. While steeped in the tradition of the past, Cornmeal continues to forge their own path, pushing the boundaries of bluegrass, Americana and folk for a whole new generation of music lovers. With a rapidly growing fan base and ever-evolving sound, Cornmeal challenges the recipe of the bluegrass sound and live performance.
Initially formed as an acoustic string band, seven years of constant touring has transformed Hot Buttered Rum into a plugged-in, percussive powerhouse that wows critics and fans alike. Their left-coast rock reveals an access to jazz, country, and world music that few groups can match. While the band's music belies simple categorization, its songwriting and stage chemistry delights listeners at every turn.
Venue:
The Ogden Theatre, 935 E. Colfax Ave Denver, CO 80218 – 303-832-1874
Doors:
8:00 PM
*Price:
$16.00– ADV
$20.00 – DoS
Buy Tickets
*All times and prices are gathered from other sources and I am not responsible for mistakes or inconsistencies. They are intended only as guidelines. Please, always call the venue if you desire the most accurate information possible.