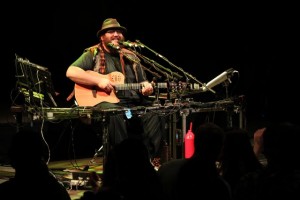 Photos by Jon Prins
The Scene:  The Hill was pretty tame on this particular Wednesday night. When I walked into The Fox, there was a modest crowd of folks and many of them were very excited to see Zach Deputy for the first time. I was very interested too because, though I had heard and witnessed the power of the Zach Deputy Band, I had never seen him do one of his solo shows.
Zach Deputy:  Zach Deputy took the stage in front of a much bigger crowd than when I first entered the venue. He opened the evening on a somber note as he dedicated the opener to Sarah Gewald, a prominent member of the Colorado music community who had recently passed away. It was a sad reminder of the temporary nature of life, but it was great to see him acknowledge someone who had been such a vital part of our scene.
Last Wednesday, Zach Deputy led us on an incredible musical journey as he showcased his vast  talents. Like Keller Williams, a loop machine is Deputy's lifeline during his shows and he used it to create a variety of grooves and pulsating sounds that got the crowd moving and shakin' their hips. Funk, Soul, and Reggae were just a few of musical influences that Deputy wove together over the course of this amazing evening and at one point I even overheard another fan say "I feel like I'm at the beach" as Deputy laid down a dancey Calypso number. Zach Deputy has a great soulful voice that he showcases on many tracks throughout this concert. He also beat boxes, which is always a sight to behold.
Zach Deputy captivated the whole crowd throughout his set and he surely gained a slew of new admirers while thoroughly pleasing the longtime fans. I was really impressed at all of the sounds he created while on stage. When I closed my eyes and got lost in the music, it was just like he had multiple guests come up and sit-in with him. Organ, horns, electric guitar, and funky bass lines were all layered together to create a huge sound. Go and do yourself a favor and check out Zach Deputy!
Energy: B+
Sound: A
Musicianship: A
Stage Presence: A
Set/Light Show: B+
Overall: A-
I am a live music junkie, photographer, traveler and free spirit living in Boulder, CO. Going and seeing live music is my passion. Taking photos of various subjects has become a very enjoyable hobby for me over the years. Going out and capturing live music, scenic landscapes and candid shots of people are what I really like best.