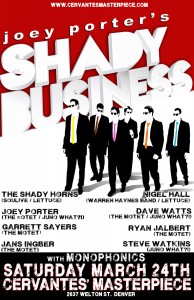 Listen Up Denver! has a couple of pairs of tickets to see Joey Porter's Shady Business & Monophonics on Saturday night at Cervantes'.
All you have to do to enter this contest is post "I Wanna Get Shady with Joey Porter" on our Facebook Wall.  
PLEASE NOTE: Entry deadline is Noon MST Friday March 23th and the winner will be notified by email or Facebook no later than 5pm MST the same day.  Please be prepared to respond quickly to confirm you can attend or we'll pick another winner.
Joey Porter is hosting an ALL-STAR funk throwdown at Cervantes' this Saturday.  The members of Juno What?! will be in attendance (Porter, Watts, Swatkins) as well as The Motet's Garrett Sayers and Ryan Jalbert. As if that weren't enough, other featured guests this night include Nigel Hall (Scofield, Warren Haynes, Soulive, Lettuce) and The Shady Horns from Soulive and Lettuce. Come RAGE with the nastiest pickup funk band you may ever see!