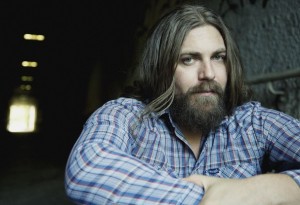 The Scene: The Fox Theatre simply went ape shit for The White Buffalo last Saturday night. Each time this man storms into town, he commandeers a larger stage, and a larger audience. Watching these guys take off is a joy I think I have been sharing with a majority of those who were in the room, and the crowd size led me to believe everyone is telling their friends as well.
The White Buffalo has been playing for a while, so he is not new on the scene, but he is new to overpowering it. Everyone was captivated from start to finish, and man, did we dance. Guitar strings and bottles broke as The White Buffalo led us on a journey fueled by inwardly revealing lyrics, tight yet rowdy playing, and drinks as strong as gasoline.
The White Buffalo: When The White Buffalo is in the room, he casts a shadow upon those around him. It is not his physical stature, which is formidable, but the raw emotion he pours out in his songs and playing.  Simply put it's his presence that is the most commanding. Opening with "Carnage," he foreshadowed the night ahead, as he trampled the audience, stole our souls, and left our bodies just lying there. "The Madman" is when things got really wild and heathenish behavior began on stage and off. His music pumps you up, and it's no wonder his songs have been showing up more and more in the television show Sons of Anarchy. The White Buffalo's music is the perfect soundtrack to a life of loud pipes, bloody knuckles, and booze soaked jeans.
Although the music is rough and tumble, all that tumbling smooths some of jagged edges off of this boulder of a man and his voice and songwriting can be as smooth as river rock. I think the same goes for his personality. He would have your back during a bar room brawl, but also be the only one who listens when you've just broken up with your girlfriend. "Into the Sun" is one of those songs that really show off the introspective romantic behind the tough exterior.
Now, The White Buffalo is one man, whose name is Jake Smith, but he often travels with his guitar in a herd of three. Tommy Andrews (Bass) and Matt Lynot (Drums) have been playing together since they were kids, and they are a hell of a rhythm section. Tight, yet rowdy and free.  Tommy also occasionally steps up to the microphone, and during "Every Night Every Day" he and Jake crooned into one mic, showing the vocal styling and rapport that only two good friends could have. This isn't just a band, but a band of brothers. I know that the people around me were having a blast, but it was clear the three men on stage were having an even better time than we were because the stage was filled with smiles, shouts, and synchronicity.
Although there were smiles on stage, some of the songs are steeped in guttural darkness. "Good Old Day To Die" and "Oh Darlin' What Have I Done" showed some of that darkness, and "John Jameson" seemed to be the culprit. "Love Song #1" was my highlight of the night, and Jake's thoughtful growl pierced me to the bone. I came into the night wanting to hear that song, but I had another on my wish-list as well. The last time I saw these guys, they covered "Highwayman," which was originally done by the super group known as The Highwaymen (Johnny Cash, Waylon Jennings, Willie Nelson and Kris Kristofferson). The original is one of my all-time favorite songs, and this time around we got it as an encore. Once again, he showed me that he's got a little bit of all of the above mentioned men inside of him.
The White Buffalo has been playing music for over a decade, and it seems as if the stars have finally aligned for him.  I can't wait to see what he produces over the next ten years. I see a good amount of music, but rarely do I see someone so "on the rise" that I can also see standing the test of time. The White Buffalo is here to stay.
Set List: Carnage, Where Dirt and Water Collide, Ballad of a Deadman, The Madman, Into the Sun, Every Night Every Day, Good Ol' Day to Die, The Darkside of Town, Oh Darlin What Have I Done, BB Guns and Dirtbikes, John Jameson, The Bowery, Damned, Devil is a Woman, Love song #1, How the West Was Won, Bar and The Beer, The Pilot
Encore: Highwayman
Energy: A
Sound: A-
Musicianship: A-
Stage Presence: A+
Set/Light Show: B+
Overall: A-

Brian Turk grew up in the shadow of the Catskill Mountains, near Woodstock, NY. He comes from a family of music lovers, audiopliles, Dead Heads and avid concert goers.The musical magic that can only be created in the Catsklills, both past and present, is what Brian cosiders the epicenter of his music addiction. The music of The Band, and most recently The Levon Helm Band, is the soundtrack of home for him. Brian's mother took him to his first concert at 5years old...it was Johnny Cash and Roseanne Cash at Jones Beach Amphitheatre. For Brian, music is a family affair. He feels the same way about live music...we all convene to celebrate together. Brian's writing life started when he wrote his favorite author, southern fiction writer Clyde Edgerton, a fan letter at age 13. When most kids were idolizing baseball players and television, he was worshipping writers and musicians. The two became friends and Clyde shared his craft with Brian. The next year Brian attended Duke University's Young Writers Camp. This is the extent, of what Brian considers, his "formal" training in writing. From then on his goal was to capture snapshots of life through words. Brian has been involved with live music in various facets over the years, and combined with his enthusiasm and love for Denver's music scene, he creates a vivid description of what he sees and hears. If you see him out at a show, dancing with a notebook in hand, say hello.