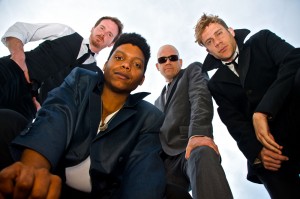 Photo by Roper
Listen Up Denver! has a pair of tickets for you to see JC Brooks & The Uptown Sound
on Friday night at The Larimer Lounge for FREE.
All you have to do to enter this contest is post "What does post-punk soul look like?" on our Facebook Wall.  
PLEASE NOTE: Entry deadline is 5pm MST Thursday April 5th and the winner will be notified by email or Facebook no later than 7pm MST the same day.  Please be prepared to respond quickly to confirm you can attend or we'll pick another winner.
Born in the great melting pot of Chicago's Uptown neighborhood in 2007, guitarist Billy Bungeroth, drummer Kevin Marks, and bassist Ben Taylor (Beat Down Sound/September Sessions soundtrack) joined forces with the Lowdown Horns to lay a ferocious foundation for the soulful shouts of Mr. JC Brooks. The son of a Jersey funk diva set adrift by the disco era, he's renowned for his take-no-prisoners stage style, giving you no other option than to get up and move!
JCBUS has always maintained the work ethic of never just 'giving a concert' but putting on a full-on extravaganza packed with theatricality, tons of heart, and buckets of sweat—they can't help it: Guitarist Billy Bungeroth directs at the famed Second City theater, while Brooks has received accolades as an actor for his performances in "Ragtime," and most recently, the Chicago production of the Tony-award winning musical, "Passing Strange" (where his band mates also served as the on-stage house band).
Never ones to be seen in what they call "street clothes," the sartorially-minded, suited-up quartet at times bulks up to seven, with the addition of equally dapper keyboards and horn section. Brooks performs with authentic swagger, and Bungeroth can unleash Townsend-ian execution. For a young band, JCBUS has already sewn up some sweet gigs—they've collaborated with blues and soul legend Syl Johnson, and as the go-to party band in Chicago, the group was tapped to play Mayor Rahm Emanuel's inaugural party in Grant Park in May 2011. Jeff Tweedy befriended the group after they scored a viral hit with their amped-up reimagining of his song "I Am Trying To Break Your Heart," performing it with them at Chicago's Park West and inviting them to appear at Wilco's Solid Sound Festival alongside heavy hitters like Sonic Youth's Thurston Moore and the Band's Levon Helm. The Uptown Sound has shared stages and supported an eclectic array of artists, from legends like Robert Plant and Buddy Guy, to indie faves Peter Bjorn & John and the Dismemberment Plan, and soul stirrers Fitz & the Tantrums, Lee Fields, and Naomi Shelton & the Gospel Queens—proving that no matter who they share the bill with, JCBUS can make any stage feel like home.