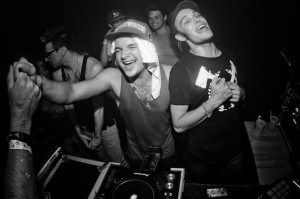 The Scene:  The Larimer Lounge is steadily becoming one of my favorite venues in town. Our relationship started out somewhat rocky, but in the recent months I have grown awfully fond of the place. The intimacy, the sound, and the relatively cheap drinks all add to the ambiance of the place. They bring in proper artists that may not have struck it big yet and the fact that every show is 21+ keeps the crowd to a perfect size and most shows turn into an all out party. Things were no different on Friday the 13th when the place was packed by ten. The bartenders were cranking out drinks, and the tone was set for some funky tunes.
Cherub: Cherub may hail from Nashville, but they have a massive amount of love streaming out of the Front Range since they are signed to Boulder's own Elm & Oak Records. They may not have been headlining, but it was rather obvious that a good amount of the crowd was there to see them.
I've been spreading the word about these two since the first time I heard them a few months ago. Without fail everybody I show them too always retorts with something along the lines of "they sound as if (so and so's) music had a baby with (insert other obscure artist's name here)." Which I guess isn't much of a stretch since there sound is unlike any I've ever heard.
When they took the stage a little after 10, the room was crowded with what looked like little to no dance room but as they got going, things started to loosen up a bit. The set started with "Love You Right" which sparked the dance party that didn't end until their final note. After a short introduction, and a promise to bring the funk, the groove was then put on full blast. Their sound is the result of both Jason Huber and Jordan Kelley playing guitars. Jason works an old school MPC beat machine, among other controllers and devices attached to his mic stand. Jordan shreds the guitar while also manipulating a talk-box much similar to something you'd see Peter Frampton working. Both take turns belting the lyrics that are both soulful and easily relatable by nearly anyone who parties on the Front Range.
Their songs range from baby makin' music, to funky dance tracks about just straight getting the fuck down, and not letting the haters in this world get in the way of your happiness. They even covered Daft Punk's "Around the World" which resulted in an even rowdier, sweatier dance floor. Something also must be said for how hard they were working on stage. I haven't seen a group play harder or look like they've been having that much fun in who knows how long. Between nearly everyone in the crowd singing along to every word, and those two on stage having the absolute time of their life, It would be damn near impossible to find a single soul on this planet who couldn't get down to their sounds.
By the end of their set they had played almost every song off of both of their releases and it all came to an end with the song that has become a small anthem of mine which is reserved mostly for watching the sunrise: "Doses and Mimosas."  By the crowd reaction I'm not the only one who relates to that song on many different levels. Their guitar riffs coupled with the wide range of tempos and beats prove an understanding of music. That, combined with the pure joy emanating from the stage, are the making of some sort of strange soul-funk-electro-indie-pop super power that is without a doubt bound for greatness.
Prior to this show my week had been full of world class musicians. Each one leaving me more satisfied then the last. Cherub was in a league all their own. Instead of being household names that have already made it, these guys are just getting started. Mark my words when I say that these two are right on the cusp of greatness. Only in the short time that I've been listening to them I've seen their Youtube and Facebook numbers rise significantly. If they can keep the intensity of their stage performance, the passion of their lyrics, and downright ability to just get funky I see them skyrocketing in the next couple of years. They just released their second album, Mom & Dad. I suggest you pick it up. I also suggest you clear your schedule next time they are in town. It is a show you do not want to miss.
Click here to download their first album for free, or purchase Mom & Dad! 
Energy: A+
Sound: A+
Musicianship: A
Stage Presence: A+
Set/Light Show: C
Overall: A

I rode my skateboard from school in 7th grade to my buddy Vince's house where he put on the song "Perfect Government" by NOFX and I was hooked. The next day I bought the album Duh by Lagwagon. The next year I saw Against Me! at the Starlight Theater in Fort Collins, my mom dropped me off. I've since devoted every waking hour to anything done with passion. My speakerbox bumps everything from Lil' Wayne to Pablo Casals. I was never very good at making music, but I am damn good at listening to it. I've been filling up yellow notepads with random thoughts and misspelled words for as long as I can remember. I enjoy whiskey of all sorts, Newport cigarettes and the company of my family. I've got an addiction to run-on sentences that I'll probably never cure. A solid handshake with a stranger who has become a friend over a few beers means the world to me. You'll often find me wide eyed and wandering with an ear to ear grin. I live for funky break beats and spreading the love.