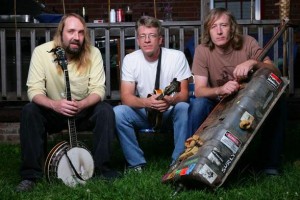 Split Lip Rayfield is from Kansas, and they are often described as a mix of bluegrass and country with an accent of metal.  No other band delivers the experience of the homemade gas-tank bass played by Jeff Eaton, sets the mandolin strings on fire like Wayne Gottstine (unless it's Rusty from Adult Swim's Squibillies…oh wait that was Wayne), or makes the banjo sing like Eric Mardis. Together, they burn up speakers and stages alike as they tour and play music for the fan faithful.  Wayne Gottstine recently took some time to share with us at Listen Up Denver! about the documentary Never Make it Home, The Split Livers, Wakarusa, and why we should come out and see them this weekend.
Listen Up Denver!: For our readers who are not familiar with Split Lip Rayfield, how would you describe your sound?
Wayne Gottstine: Well, we're  aggressive Bluegrass/Country/Rock.  It's all acoustic, but we have a gas-tank bass.  It sounds just like a bass, but more powerful.  We have a banjo player, and a mandolin player and we rock a three part harmony with shredding solos and things like that.
LUD!: Last year, the documentary "Never Make It Home" was released.  Originally this was supposed to be a concert film, but all of that changed when Kirk Rundstrom was diagnosed with terminal cancer.  Instead, what ended up being made was an intimate portrait of the musician and your friend's final days.   Can you share with us about the "Final Tour," and how it was playing knowing  that each show played would be your last at that venue as a foursome?
WG: Actually, we did not release that film, it was Bionic Films.  But the last tour…it was intense and it was like a roller coaster ride.  It was incredibly emotional and it was kind of like a blur.  I mean we finished and Kirk passed away two weeks later.  It was very intense.   I'm still dealing with issues from that and his passing was five years ago in February.
LUD!: How has your sound changed since deciding  to continue playing without a replacement for Kirk?
WG: We still sound a lot like we did.  We worked pretty hard and played a lot of shows since then.  And we're comfortable with how we sound.  Maybe we sound a little bit different, but we're still tight and we've got some new songs and we're real happy with how we sound.  I think we still rock.
LUD!: I understand you have a side project with Danny Barnes called The Split Livers.  Can you share with us about this collaboration?
WG: We have a tour working out.  We're a duo, just me and Danny.  I'll probably be playing mostly guitar and the mandolin and he plays the banjo and guitar.  We're playing songs together from our own repertoires, new stuff and some stuff solo stuff with just him and some solo stuff with just me.  We'll be mixing it up, and every show will probably be a little different.  Right after Split Lip's Mishawaka date we're going to do some recording and get ready for this June tour.
LUD!: I see The Split Livers have eight summer tour dates scheduled with more TBD.  Any plans on a few Colorado stops?
WG: Well, I think we will.  This summer we both have festivals in Colorado.  It'll be a little while before we can come back to Colorado, but at some point I see both of us coming there because we have a good fan base there.  We certainly enjoy spending as much time there as we can.
LUD!: So I know Split Lip Rayfield are no strangers to Colorado, what do you enjoy most about our state?
WG: There are so many things.  I really enjoy the mountains and the local fauna.  People are really into live music and they are open to hear different things.  We always have a real good time when we come to Colorado.  We love to see the different towns and see something new.
LUD!:  Do you have a favorite venue?
WG: Well, yeah I played Red Rocks onetime, so….   That was great!   (laughs)  But I really enjoy playing up at The Aggie in Fort Collins, and I really enjoy The Bluebird in Denver.  And all of the ski towns too.  We played in Durango the other night, at The Abbey Theatre there.  That's a real fun place to play, because they're always excited about new music coming to town.
LUD!:  You have played every single Wakarusa, and shared the bill with some amazing acts like STS9, G. Love, and Mumford and Sons.  Can you share with us your favorite memories of playing Waka?
WG: Originally it was in Kansas, and I remember the super storms of….I can't remember what year that was.  It just rained and rained and rained, and it was super muddy.  That was kind of fun.  And now that it's in Arkansas, one of my favorite things to do is take a float trip.  After our show, we'll go down to the river and rent a kayak and take a float trip on the river.  It's a really beautiful place there.  I saw a bear there one time, and that was exciting.  I actually hit the bear with a rock.  The forest ranger had come by earlier and said if a bear came by to make a bunch of noise and throw rocks at it and scare it away because a fed bear is a dead bear.  And one came by and me and Jamie (our sound man) made a bunch of noise…it (the bear) was in this girl's cooler, eating watermelon.  And we made a bunch of noise and threw some rocks at it.
LUD!:  So it was right at your campsite?  I've seen some of the YouTube videos of bears in the VIP camping areas on Mulberry Mountain.  Was it big?
WG: Oh yeah, it was at our campsite.  He was kind of small…maybe four and a half, or five feet tall when he stood up.
LUD!:  Whoa, that's still nothing to tussle with!  Well, the 2012 lineup is featuring some great acts including The Avett Brothers, The Weir, Robinson, & Greene Acoustic Trio, Slightly Stoopid, and of course two sets from you guys. So when it comes to this year's line-up, what are you looking forward to the most?
WG: Well, I haven't had a chance to look at the schedule yet.  We're really just rolling through and playing two sets and then we have to get out of town again.  You know, to make any money on the road you have to play every day and we don't always have time to hang around too much.
LUD!: You guys have played a lot of festivals.  What is it that makes Wakarusa different than other festivals you have played?
WG: Right now, the setting.  The spot in Arkansas is a really beautiful place, and you just see the craziest things at Wakarusa.  I'm a people watcher and there are plenty of crazy people to watch at Wakarusa and that's actually one of my favorite things.  Plus we get to run into old friends that play in other bands too.  And people are there to have a really good time and there's very little trouble there.
LUD!: Last question, what can our Listen Up Denver readers expect when they come out this weekend for your shows at The Larimer Lounge and at Mishawaka?
WG: They can expect intense, aggressive jams and close to thirty songs in an hour and a half.  Come to our show.  We're looking forward to seeing everybody!
Come out this weekend and catch the insurgent country powerhouse trio that is Split Lip Rayfield.  Listen Up Denver! will be there.
May 11th at Larimer Lounge | Denver, CO
May 12th at Mishawaka Amphitheater | Bellvue, CO