Below is a feature that I published in The Marquee Magazine last November. With Orgone opening for Galactic at The Fillmore tomorrow night, I figured I would post this here for anyone who wants to learn a bit about the band and find out why they should go early to catch their set.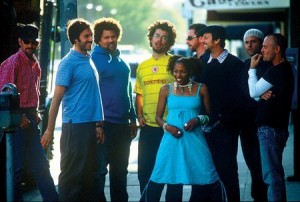 In the 1930s, German psychoanalyst Wilhelm Reich proposed the theory of Orgone Energy to describe a universal life force or a cosmic unit of energy that is the creative force in nature. Though the concept is interesting and not entirely unusual, Reich's behavior and claims of the medical validity of his idea led to extensive controversy and ended up landing him in jail.
Fast forward 70 years and a musician in Los Angeles stumbled across a documentary that focused on Reich and his work, and decided that Orgone was a good name for the fledgling funk band that he was playing in at the time. "We started looking into it a little and thinking it was an interesting concept but not really taking it too seriously until about two weeks after he [bassist Ethan Philips] had suggested the name," said keyboardist Dan Hastie in a recent conference call that he, guitar player Sergio Rios, and percussionist Stewart Killen had with us just before doing a radio show in Santa Cruz, Calif. "We were playing a strange gig up in Fresno and he [Philips] goes out to have a cigarette at the motel we are staying at and sitting out on one of those little patio tables by the pool was a hard cover edition of Wilhelm Reich's The Theory of Orgone Energy. So that pretty much stopped everyone in their tracks and sealed the deal."
Though those events took place almost 10 years ago, Hastie and Rios had met years before. "Serge and I have been playing together since we were in high school. We go back 18 years," said Hastie before Rios chimed in. "I think Dan was the first keyboard player I met who I really hit it off with, so we started exchanging music. A good friend of mine's older brother played drums and we got him into the fold and met a bass player from New York and that was the seed of Orgone," Rios said. "That was how the relationship started and it's still going."
Today, Orgone remains fully committed to the funky music that they grew up on despite the fact that the membership of the group has changed over the years and they have gone from being a five-piece instrumental outfit to an eight-piece band with a powerhouse of a female vocalist. "We hooked up with Fanny back in 2003 or 2004," said Hastie. "She plays with this group called DaKAH. It's a 60 or 70 piece hip-hop orchestra from L.A. that a lot of the musicians from our community play with. When they do shows it tends to be a really big thing. She was singing with them and we were amazed with her vocals. We had an opportunity to record a version of 'Funky Nassau' with a female vocalist and we got in touch with her to do that recording session, and from there it grew into something else. She began doing some shows with us and learning some of our songs and eventually writing and recording records with us."
According to Serge, it didn't take much time before the guys in the band knew that Franklin was going to become a full fledged member. "She was pretty much a perfect fit right off the bat. We had worked with a lot of singers over the years and it was pretty marvelous when we linked up with her and we all had the same attitude and goals."
Though today Orgone is relying primarily on original material during their shows, Serge admits that they still have a passion for the bands that they grew up covering. "We are always happy to throw a choice Funkadelic cover in, or some kind of rare obscure Afro-Funk track. The Meters 'Ain't No Use' has been a staple of our live show for a while now, we always have to pay tribute," he said.
Their work ethic and the pure raw energy that they bring to the stage may soon have others paying tribute to them, as they recently attracted the attention of a major force in the music business in David Lefkowitz, VP of mega production company Goldenvoice and former manager of Primus. "It was another one of those lucky strokes," Rios said. "He had heard some kind of buzz about us and came to see us at The Boom-Boom Room in San Francisco. Later that week he called us and started giving us his spiel. When a guy with a track record like that calls you and says, 'Let's see what we can do together,' it's pretty motivating."
Since hooking up with Lefkowitz, Orgone has been steadily building a following outside of the West Coast scene that they are already well known in. "We have gotten a lot of great opening gigs through our association with him. Al Green, Sharon Jones, Gil-Scott Heron, The Roots, Ozomatli, The Greyboy All-Stars. He has a knack for getting us in front of audiences that it would have otherwise taken us much longer to get in front of," Rios said.
It may not be long before the world discovers that Orgone is, in fact, a cosmic unit of musical energy to be reckoned with. In the meantime, they are content to keep playing their music and throwing dance parties in clubs and at festivals for those that already know the truth.
– By Tim Dwenger

Music has always been a part of my life. It probably all started listening to old Grateful Dead, Peter Paul & Mary, and Simon & Garfunkel records that my parents had, but it wasn't long before they were taking me to concerts like Starship, Crosby, Stills & Nash, and Huey Lewis & The News. I got the bug to write about music after reviewing an Eric Clapton concert for a creative writing project in high school but didn't really take it up seriously until 2002. Since then I have published countless articles in The Marquee Magazine and done some work for Jambase.com, SPIN Magazine, and various other outlets. I started Listen Up Denver! as a way to share the music information that is constantly spilling out of my head with people who care. Please enjoy!