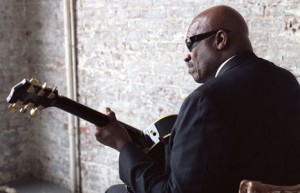 The Scene:  The Boulder Theater was full almost to the rafters Friday night for Taj Mahal's 70th birthday party. The historic venue hosted a stellar lineup that included many leading contemporary Blues performers. Keb' Mo' and Taj's own daughter Deva Mahal, who tore the roof off the sucker with Taj's trio, also took the stage during the evening.  The energy in the room was at a high level and the Boulder crowd was on its feet (largely doing the vanilla sway and bob) for most of the evening. The Colorado Blues Society was in the lobby along with a special 70th birthday card for Taj that was signed by most of the audience.
Taj Mahal Trio:  Many happy returns Taj! Thank you for giving all of us the gift of your music on your own birthday!
Taj is the brightest star in a twinkling trio of masterful musicians. His side-men, Kester Smith (drums) and Bill Rich (bass), could make even Justin Bieber sound like he grew up with B.B. King in the Delta. As a trio they are tight and synchronized without seeming tense about it. The group has achieved every musician's dream of sounding great but looking easy. Taj's warm personality and an inclusive stage presence that he has built up over the decades are a large part of his success. Another large part of Taj's sticking power is his instrumental prowess. Singing and switching between guitars and banjo throughout the evening, Taj was tearing a hole in the blues-time continuum. A limited number of musicians are able to keep the crowd's interest for an instrumental blues tune, let alone several in a row, but Taj & company accomplished those tasks with aplomb on more than one occasion.
Deva Mahal got much more than good looks from her papa. Her vocal style is creative and innovative while remaining true to those aspects of the blues that form the core of the genre. She joined the group on-stage throughout their performance, including the two-song encore.
Taj's birthday closed down fifteen minutes after midnight and was followed by an after-party event at The Fox across town. At this writing, Taj has no dates announced in Colorado in the near future, but he is touring the West for the rest of this month. Bookmark his tour page here so that you can be sure to hear him at your soonest opportunity.
Energy: A+
Sound: A
Musicianship: A+
Stage Presence: A+
Set/Lights: B
Overall: A

Tim is a an avid lover of music and pursues this passion as a creator and audience member. Tim will give any organized noise made in some way by a human a fair listen. He likes to experience authenticity in a musician's work and share what he finds with his readers. Denver's diverse musical scene is a great playground for these pursuits. Tim's Denver University honed musical understanding and coal-mining mamma give him a unique and informed perspective on all music, from classical to hip hop. He performs with Stoned Wallabies, a horn section equipped rock band, and Orquesta La Brava, a popular salsa band.