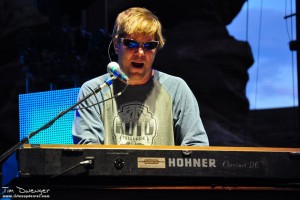 Photos by Tim Dwenger
The Scene: When String Cheese takes over Red Rocks for a run of shows it's always a party and last night was no different.  It took the stands a while to feel crowded, but slowly but surely the freaks filtered in and by 7:30 the air was buzzing with anticipation.  Though it looked like only three quarters of the tickets were sold for the first night of this summer's three night run, the boys didn't hold back and really brought it right out of the gates.
Despite the joy that is always present at SCI shows, the absence of a longtime fan and friend of the band Sarah Gewald hung in the air and the special SEG logo sticker the band created in her memory was prominently displayed in several places on Travis and Hann's kits on stage.  Gewald passed away on March 14th and SCI debuted the new tune "Struggling Angel" midway through the second set to honor her.  I'm sure she was with us all in spirit as we danced the night away.
String Cheese Incident: The night started out shortly before 8 o'clock with Nershi donning an electric guitar for "Sometimes A River" and from the get-go the band was on fire.  They traded solos and flashed smiles back and forth, clearly thrilled to be back on the stage that is the band's Colorado home.  Things got funky when Hollingsworth laid into his keys for "Lost" and the dancers in the crowd were getting down as the funk yielded to the vaguely Latin strains of "Pygmy Pony."
The set really started to heat up with "Song In My Head" and while it's not my favorite tune in the SCI catalog, I found myself really grooving along with this version as they kept ratcheting up the energy and the daylight started to fade from the Amphitheatre.  Kang's "Cedar Laurels" kicked off an amazing trio of songs that featured some of the most inspired jamming of the night.  While "Cedar" always brings a smile to my face as it features that one-of-a-kind String Cheese melody (the first thing that I fell in love with about this band) their version of Paul Simon's "Under African Skies" might be my favorite cover in their vast arsenal and they nailed it last night.  The jam out of the song kept the dance party electrified as the band got a long way from the original structure before returning to close it out and lead us into one of the band's newest jam vehicles "Colorado Bluebird Sky."  As we danced to the Barefoot Boy's bouncy brand of Bluegrass, Nershi sang to us about living a mile high, and I remembered clearly why I keep coming back to see this band again and again.
After a relatively long set break, the band returned to the stage with another fairly new tune, the Hollingsworth original "Let's Go Outside."  While it is a decent song, it paled in comparison to a fiery run from "Miss Brown's Teahouse" into "Chameleon," back into "Miss Brown's," and finally into Jean-Luc Ponty's "Rhum 'N Zouc."  Throughout this stretch of music the band looked and sounded like the SCI of old.  It was great to see them hitting their stride as Kyle wailed on the keys, Billy's fingers danced on his strings, and Hann added some great percussive textures to the intricate soundscape.
What followed was easily one of the most somber moments of any show I've attended as Moseley said a few brief words about Sarah Gewald and the band debuted "Struggling Angel." [Editor's note: You can download the song here.]  When Moseley's face appeared on the jumbotron as he sang, he appeared to almost be tearing up a bit.  The track is delicate and it's lyrics are powerful and it was the perfect place for the first live performance of the song.  It remains to be seen if it will stay in the band's rotation, but last night it definitely struck a chord with anyone who was touched by Gewald's beautiful spirit.
The boys then kicked up the Funk Herbie Hancock style with "Solution" and the set closing run from "Sand Dollar" in "Desert Dawn" had some dark and spacey moments that revealed the more experimental side of the bands improvisational style.  It was a great way to wrap up the second of six sets on The Rocks.  After a brief encore break "Whiskey Before Breakfast" reared it's head and Kang's fiddle filled the night air as we danced our hearts out.  The night ended with a raging take on "Outside and Inside" and the show wrapped promptly at 11:30.
I can't wait for night two . . . the boys are on fire!!!
Setlist:
Set 1: Sometimes A River, Lost > Pygmy Pony, Song In My Head, Cedar Laurels > Under African Skies > Colorado Bluebird Sky
Set 2: Let's Go Outside, Miss Brown's Teahouse > Chameleon > Miss Brown's Teahouse > Rhum 'N Zouc, Struggling Angel, Solution, Sand Dollar > Drums > Desert Dawn
Encore: Whiskey Before Breakfast, Outside and Inside
Energy: A
Sound: A
Musicianship: A
Stage Presence: A-
Set / Light show: A
Overall: A
Music has always been a part of my life. It probably all started listening to old Grateful Dead, Peter Paul & Mary, and Simon & Garfunkel records that my parents had, but it wasn't long before they were taking me to concerts like Starship, Crosby, Stills & Nash, and Huey Lewis & The News. I got the bug to write about music after reviewing an Eric Clapton concert for a creative writing project in high school but didn't really take it up seriously until 2002. Since then I have published countless articles in The Marquee Magazine and done some work for Jambase.com, SPIN Magazine, and various other outlets. I started Listen Up Denver! as a way to share the music information that is constantly spilling out of my head with people who care. Please enjoy!