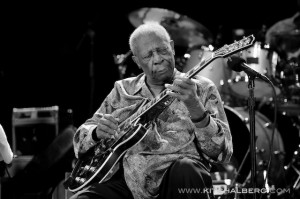 Photos by Kit Chalberg
The Scene: Last Thursday night the mighty Red Rocks Amphitheatre was transformed into an intimate little Blues club as B.B. King and Tedeschi-Trucks Band tag teamed the venue.  From octogenarian contemporaries of King, to their grandchildren, the benches at Red Rocks were packed with music fans of all ages who were counting themselves lucky to get to see the Blues legend at Red Rocks.  While it was clear that for many of the fans who made it out, B.B. was the main draw, a healthy number stuck around to catch one of the tightest bands on the circuit today fronted by the husband and wife team of Derek Trucks and Susan Tedeschi.
While most of the crowd was extremely well behaved, I've got to take issue with the group in the 5th row who had no problem lighting up a cigar and passing it around late in King's set.  I mean Red Rocks doesn't allow cigarette smoking in the seats, and yes, I know that happens all the time and I don't like that either, but a cigar???  Are you kidding me???  We were sitting 5 rows away and the thick clouds of blue smoke washed over us several times and on more than one occasion I thought about going to find an usher to remove the aficionado and his smoking partners.  I don't care what you do in your living room, but when you are in a public place, that strictly prohibits things like this, you've got to at least pretend to care about the people around you.  Okay, rant over, let's get on to the music.
B.B. King: The B.B. King Blues Band emerged first and ran through two jazzy tunes before the legendary bluesman emerged from the shadows and slowly made his way to a chair positioned in the middle of the stage as the crowd gave him a standing ovation.    For 86 years old, King proved he could still move relatively well, and when he picked up Lucille, he proved he could still lay down some of the tastiest blues licks in the business.  There is a reason they call this man "The King of The Blues!"
He started things off by introducing the band that had just wow'd us with some great solos, before launching into "Everyday I Have The Blues."  While his band did most of the heavy lifting throughout the set, King's trademark phrasing on the guitar and vocals was very much intact.  Truth be told he probably spent more of the set working the crowd than he did playing, but hey, when you're the King of The Blues, you can do whatever the hell you want I guess.
He got the crowd to help him sing "You Are My Sunshine" and though it took a minute or two for people to get really into it, by the end King stopped singing and we all took the reins as he added a little lick here and there to keep us on the right track.  The highlight of his set came when he dropped "Love Comes To Town" and "After The Thrill Is Gone" back to back.  Though he paused mid-song to give a pick to a kid in the front row, the songs were delivered nearly flawlessly.
King showed more of his kind and gentle side when he gave out more pics to children in the front row, and then gave a medallion from around his neck to a developmentally disabled girl confined to a wheelchair.  It was a touching moment as King proved that he's got a heart as big as anyone in the music business.  Fittingly he wrapped up the set with "Someone Really Loves You" before telling us all that "the truckers are gonna come down next.  Don't you go no where!"
Tedeschi-Trucks Band: Let's get one thing straight right off the bat, Tedeschi-Trucks Band is a powerhouse of horn-driven, bluesy Soul that will knock you on your ass if you're not careful.  Led by the soft-spoken husband and wife duo or Susan Tedeschi and Derek Trucks, this band features a pair of drummers, a full horn section, background singers, an organ player who occasionally steps out on the Flute, a bass player, and two of the best Blues guitarists playing today.
They kicked off their set with Harry Nilson's "Everybody's Talkin'," a song that is featured as the lead track of their recent live album of the same name.  From the first notes it was clear that they have reinvented the AM Radio classic and injected it with a healthy dose of Blues and Soul to create a brand new song that got all of Red Rocks up on their feet, tappin' their toes.  I'm sure more than a few of the folks who had headed home after B.B. King left the stage would have stayed firmly planted if they had known what Tedeschi-Trucks Band was capable of.
While many of the songs the band showcased throughout the night are built around Susan's powerful vocals, when she stepped away from the mic, the band truly shined.  From Trucks blistering slide guitar solos, to Kofi Burbridge tickling the keys of his big B-3, and his brother Oteil laying down some thick bass solos, this is a band full of master musicians, many of whom could, and have, led their own bands.  They have come together because they understand that this project is about becoming something more than just the sum of their parts.  When they tore into a monster version of "Bound For Glory" we got a little taste of everything they have to offer right down to some synchronized dance moves from the horn section.
Tedeschi got a chance to really show off her chops on the Guitar with a cover of Elmore James' "The Sky Is Crying" and I'm sure that there were a few skeptics in the crowd who were proved wrong as this sweet voiced mother of two laid down some gritty solos that would have made James himself proud.  While Tedeschi has always been a great player in her own right, there's no doubt that living with Trucks for more than 10 years now hasn't hurt her playing one bit.  She even proved that she could hang with him when the pair sparred back and forth for several minutes later in the set on "Learn How To Love."  It was a true treat to be able to watch these two battle it out with grins on their faces on that historic stage.
Things took a turn in the Soul and R&B direction when the band tackled Stevie Wonder's "Uptight (Everything Is Allright)."  Early in the song Trumpet player Maurice Brown stepped to the mic and blew our minds with a lengthy solo that would have stood up in just about any Jazz club in the country as he and the band built to a furious climax.  As the song wound down, and most of the band left the stage, things descended into a rhythm section solo that featured Oteil Burbridge laying down a stellar solo on what can only be described as a "Banjo Bass."
The band closed the two hour set with "Love Has Something Else To Say" and teased The Beatles' "Why Don't We Do It In The Road" briefly before Trucks took a searing solo that brought the song to new heights and left the audience begging for more.  As for us, with three nights of Phish on the horizon, we headed for the exits as the century old Negro spiritual "Wade In The Water" washed over The Rocks and took everyone to church for a few minutes.
If you haven't seen, or heard Tedeschi-Trucks Band yet, you are missing out.  This band is here for the long haul and not only are they bound for glory, but they are bound to go down in history with legends like B.B. King, Elmore James and more.
Energy: A-
Sound: A
Musicianship: A
Stage Presence: A
Set / Light show: B
Overall: A-
Music has always been a part of my life. It probably all started listening to old Grateful Dead, Peter Paul & Mary, and Simon & Garfunkel records that my parents had, but it wasn't long before they were taking me to concerts like Starship, Crosby, Stills & Nash, and Huey Lewis & The News. I got the bug to write about music after reviewing an Eric Clapton concert for a creative writing project in high school but didn't really take it up seriously until 2002. Since then I have published countless articles in The Marquee Magazine and done some work for Jambase.com, SPIN Magazine, and various other outlets. I started Listen Up Denver! as a way to share the music information that is constantly spilling out of my head with people who care. Please enjoy!