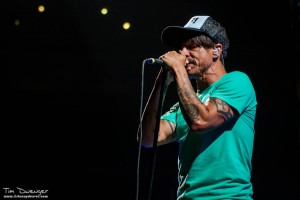 Photos by Tim Dwenger
Last Thursday, the Red Hot Chili Peppers finally made it to Denver to play the show that was rescheduled from way back in March when Anthony Kiedis was forced to have surgery on his foot.  While guitarist Josh Klinghoffer was the one in a foot cast this time around, the show went on as planned and by all accounts they rocked The Can with a monster show that fans had been waiting a long time for.
Early in the set Kiedis managed to hit himself in the eye-brow as he swung his mic around his head, but a trickle of blood couldn't stop the nearly 50 year old rock-star and he only paused briefly to ask Klinghoffer if it was a "big gash."  The Peppers paid tribute to legends Stevie Wonder and Robert Johnson during a set that touched on old and new material dating way back to 1987.  While reports were that the room sounded pretty good, I'm sure a show like this would have benefited from the energy of the GA floor up in Broomfield at the 1stBank Center.  There is just something about the rawness and energy of this band that is diluted without a sweaty crush of bodies pressing up against the stage.
Setlist: Monarchy of Roses, Around the World, Snow ((Hey Oh)), Otherside, Look Around, Can't Stop, Hey, The Adventures of Rain Dance Maggie, Me & My Friends, Parallel Universe, Under the Bridge, Ethiopia, Higher Ground (Stevie Wonder cover), Californication, By the Way
Encore: Chad & Mauro & Josh Jam, Sir Psycho Sexy, They're Red Hot (Robert Johnson cover), I Could Have Lied, Give It Away
Music has always been a part of my life. It probably all started listening to old Grateful Dead, Peter Paul & Mary, and Simon & Garfunkel records that my parents had, but it wasn't long before they were taking me to concerts like Starship, Crosby, Stills & Nash, and Huey Lewis & The News. I got the bug to write about music after reviewing an Eric Clapton concert for a creative writing project in high school but didn't really take it up seriously until 2002. Since then I have published countless articles in The Marquee Magazine and done some work for Jambase.com, SPIN Magazine, and various other outlets. I started Listen Up Denver! as a way to share the music information that is constantly spilling out of my head with people who care. Please enjoy!