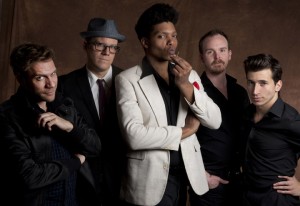 Why You Should Go: JC Brooks & the Uptown Sound has always maintained the work ethic of never just 'giving a concert' but putting on a full-on extravaganza packed with theatricality, tons of heart, and buckets of sweat—they can't help it! Six and a half feet of raw emotion and sweat, with one leather boot planted in gutsy R&B, the other in taut minimalist grind. Snarling at the crowd beneath an afro pompadour, while indulging in a sly wink, singing to you directly, and here to make you dance. What does post-punk soul look like? It looks like JC Brooks & the Uptown Sound.
On Want More, the band's first album for Bloodshot, the charismatic Brooks erupts with raw emotion, harnessing the Uptown Sound's post-punk reimagining of JB's moves and MG's grooves to unleash pure and uncompromising soul music ranging from sweaty on-the-one workouts ("I Can See Everything"), dance-punk booty shakers (the title track "Want More"), garage rock thump humps ("Baaadnews"), and aching R&B ballads ("To Love Someone (Who Don't Love You)") without a missed step in between. JCBUS are not just another throwback group; they came to be during an age of war, envisioning an aggressive dance music with lyrics that dig deeper and hit harder than the usual "baby, baby" fare.
Venue: Larimer Lounge, 2721 Larimer Street, Denver, CO – 303.291.1007
Doors:
8:00 PM
*Price:
$12.00 (ADV)
$15.00 (DOS)
PURCHASE
*All times and prices are gathered from other sources and we are not responsible for mistakes or inconsistencies. They are intended only as guidelines. Please, always call the venue if you desire the most accurate information possible.