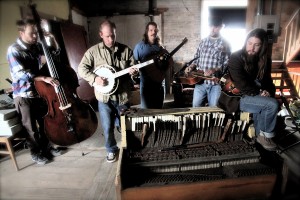 Photo by J. VanBhuler
Listen Up Denver! is Throwing a FREE Greensky Bluegrass Pre-Party
Across The Street From The Bluebird Theatre at Goosetown Tavern On Saturday Night
Featuring Live Music From Caribou Mountain Collective, $1 PBRs, and $4 Sailor Jim Rum Drinks
Start Your Evening A Little Early With Us Before Greensky Blows Your Mind! 
Why You Should Go: While Greensky Bluegrass is "technically" a Bluegrass band, they've been known to throw a great party, and toss in some genius covers alongside their growing catalog of great original songs. What makes Greensky more than just a Bluegrass band? Poignant rural ballads about real people? Dobro tone that Jerry (Douglas or Garcia) would love? Distortion Pedals? Grit and attitude from a Whiskey soaked card game? Indeed, but that's just the tip of the iceberg.
They are unquestionably a team of friends that traverse the country making music they enjoy and this quintet from Michigan has been staying up late at all the coolest festivals and stopping to play your favorite clubs and theaters across America for 11 years now. Nearly 175 shows per year has prepared them for the rigorous task of continuity. Greensky Bluegrass isn't slowing down. In 2011 they recorded their fourth studio record, Handguns, and critics have described it with words like, "proud," "killer," and "damn right!" While they all may be accurate, there's a lot more than that in this piece of work that may well come to define one of 21st Century America's hardest working musical ensembles.
Venue:
The Fox Theatre 1135 13th Street, Boulder, CO – 303.443.3399
The Bluebird Theatre, 3317 E. Colfax Ave, Denver, CO 80206 – 303/377-1666
Doors:
Thursday: 8:30 PM
Friday & Saturday: 8:00 PM
*Price:
Thu: ADV $13, DoS $16
Fri & Sat: ADV $16, DoS $20 (Two Day Pass $30)
Buy Thursday
Buy Friday
Buy Saturday
Buy Fri/Sat Two Day Pass
*All times and prices are gathered from other sources and we are not responsible for mistakes or inconsistencies. They are intended only as guidelines. Please, always call the venue if you desire the most accurate information possible.