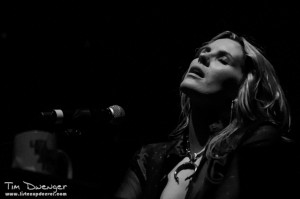 Photos by Tim Dwenger
The Scene: When I walked into The Fillmore about 20 minutes before Grace Potter and The Nocturnals went on last Friday, I have to admit that the size of the crowd took me by surprise. While I know they are a great band, I guess I didn't expect as many other people to know as well. This band's ten years on the road has built a loyal following, and they have kept it by consistently putting on good shows and putting out equally good albums. Selling 3,000 tickets at The Fillmore is no small feat, and I guess I underestimated the fan base and raw power Potter and her stellar band posses.
After noticing the size of the crowd, I next noticed the high percentage of beautiful women in the venue. Typically, when I notice this the music doesn't rock nearly as hard as Potter and her band did, and I am sure boyfriends were glad to be dragged out to watch Potter work it on the stage. I was told early on that I shouldn't objectify women on stage when writing reviews and while that may sound simple, it is hard not to sensuously connect with beautiful woman just killing it up there. Potter made me feel – for the first time in a long while – comfortable saying how sexy a female musician is, because she works it, knows it, and capitalizes on it…as well she should. Therefore, I feel I have been given permission to comment on her staggering beauty and explosive sexuality on stage. That being said, Potter could occupy any physical form and her talent and passion would shine through.
If you combine the band's decade of touring, the fact that Potter just happens to be blessed by the hand of god with a fine physical appearance, and her balance of raw and soulful vs.radio friendly songs, well, she can pull just about anybody out to a show and she proved that on Friday with the turnout and the diversity of the crowd. All ages and all walks of life came out for various reasons, but everyone wanted to get down…and we did just that. All damn night.
Grace Potter and The Nocturnals: I had only really heard a handful of Grace Potter and The Nocturnal's songs before coming to the show, and I will admit, my first reason for coming was the fact she is attractive. Sue me. The second draw was that I had heard a couple live cuts, and the soulfulness of her sound was undeniable. The third was that I had just interviewed Lukas Nelson, and he brought her up in the conversation so her name was fresh on my mind. It took me long enough to finally check Potter out, but now I don't think I can keep my ears, or eyes, off of her.
The stellar set started out with "The Lion The Beast and The Beat," and Potters long legs mesmerized me as much as the bright lights and driving force of the music. As Potter danced around the stage she shook a tambourine and charmed the crowd like we were a basket full of snakes. It was hard to get my eyes off of Potter, but as the musicians on stage with her did things to draw my attention, I realized the bands skills were as hot as she was.
"Sweet Little Hands" had a bit of a Country twang behind the Blues forefront, but they threw a little Funk into it as well. The slow, dark, Latin tones of "Oasis" found Potter behind the keys, and her dramatic hand gestures and vocal styling were accentuated by the mood altering light show. This band not only poses fine musicianship, but the show had a high production value as well. This was a straight up rock extravaganza. Again, I was a bit surprised. Dare I say it? I just didn't expect her to rock this hard. I mean Potter was moving from guitar to keys and putting her all into music she wrote. Man, not only did I underestimate Potter and the band, I have been missing out.
Things slowed down a bit with "Timekeeper," a ballad any Brandi Carlile fan would love, and then bounced up with the bubbly and catchy "Goodbye Kiss." "Goodbye Kiss" was a great little ditty that had a little Brett Dennen poppiness,a lot of female Country mass appeal, and was peppered with Rock. From there the night took us through material spanning the band's entire career, and really showed their versatility and broad appeal. She's a little singer/songwriter, a little Country, a lotta Rock and Roll…and it's all saturated with Soul.
By the time Potter started singing "Nothing But The Water I" the audience was fully under her spell, and she had whipped us into the frenzy before stopping us in our tracks with the gospel intonations in her soulful voice. One woman and one guitar had 3,000 of us captivated. The slow and solo performance was like foreplay before diving into "Nothing But The Water II" which is where things got dirty. Delightfully dirty. Potter tore through the song with tenacity,  kneeling on the stage and working her hips. Now I know how women felt when they watched Robert Plant in his heyday. There was a whole lot of stomping' and smilin' in the room as Potter rose up and launched right into The Rolling Stones' "Paint It Black." I wanted to beat my chest and dance around Potter with a piece of raw meat in my mouth. For a moment Potter striped my psyche down to its most primal form. The foundations of musical rhythm are based in the natural environment. Our environment and bodies inspired beats and rhythms, and it is thought that some of the earliest compositions were inspired by sexual intercorse. Not once a week, "honey I love you" kinda sex, but primal, screaming, grunting, naked under a full moon sex, with explosive crescendos, pace changes, and two people creating a rhythmic symphony that leaves nothing but bliss. Potter reminded me of that fact.
Grace Potter and The Nocturnals ended the set with "Medicine," and I needed a drink and a cigarette. Now I have spoken a lot about the sensuality flowing from the stage, and that came through in the music itself and in Potter's overt expression of her connection to the music as well. I have a feeling performing excites Potter as much as watching her excites her fans. The level of musicianship by all on stage,  the sexiness of Potter, the light show and production, the enthusiastic crowd, and the fact that I totally underestimated this band made this one of the best shows I've seen all year. Grace Potter has the medicine that everybody wants.
Energy: A+
Sound: A
Musicianship: A
Stage Presence: A+
Set / Light show: B+
Overall: A
Brian Turk grew up in the shadow of the Catskill Mountains, near Woodstock, NY. He comes from a family of music lovers, audiopliles, Dead Heads and avid concert goers.The musical magic that can only be created in the Catsklills, both past and present, is what Brian cosiders the epicenter of his music addiction. The music of The Band, and most recently The Levon Helm Band, is the soundtrack of home for him. Brian's mother took him to his first concert at 5years old...it was Johnny Cash and Roseanne Cash at Jones Beach Amphitheatre. For Brian, music is a family affair. He feels the same way about live music...we all convene to celebrate together. Brian's writing life started when he wrote his favorite author, southern fiction writer Clyde Edgerton, a fan letter at age 13. When most kids were idolizing baseball players and television, he was worshipping writers and musicians. The two became friends and Clyde shared his craft with Brian. The next year Brian attended Duke University's Young Writers Camp. This is the extent, of what Brian considers, his "formal" training in writing. From then on his goal was to capture snapshots of life through words. Brian has been involved with live music in various facets over the years, and combined with his enthusiasm and love for Denver's music scene, he creates a vivid description of what he sees and hears. If you see him out at a show, dancing with a notebook in hand, say hello.