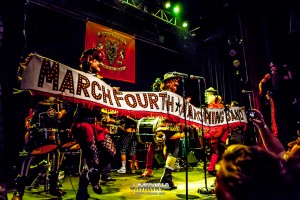 Photos by Jim Mimna
The Scene: The costumes made their way out of the closets and boxes in time for a show of colorful surprise at The Gothic Theatre on Saturday night. The large room was scattered with black cats, wizards, dead rock stars, and zombies who all mingled happily alongside those not quite ready to embrace the Halloween spirit. A crowd of mostly 30 somethings filed in gradually throughout the night, eventually making for a pretty full room excited to kick off the last weekend of October.
Opener: Bop Skizzum. Right out the gates Denver pop rock band Bop Skizzum laid down a deep Rock groove that bled Soul and a hint of spookiness. The band of young musicians led by band founder Andy "Rok" Guerrero and Julie Almeria were dressed as a group of zombie high schoolers and set the tone for a night of shenanigans soon to come from the two other bands on the bill.
While the vocals were a little loud for my liking, the energy onstage was on point, and the band sounded solid. I've seen Bop Skizzum a few times now, and I've found myself more impressed each time by these well trained musicians. Bop Skizzum touts themselves a funk band, but if Denver can claim a Pop-Rock band, I'd say it is Bop Skizzum.  Their set at The Gothic on Friday hit another level when they turned out an epic cover of "Let Me Clear My Throat," a DJ Kool favorite from the '90s. The youthful exuberance and witty spirit of Bop Skizzum is channeled through their music, their look, and their banter with the crowd.
Opener: MTHDS. The energy in the room got notably higher as the long-loved Denver-based, MTHDS, took the stage. Rocking some serious Star Wars costumes, the alternative Rock and Hip-Hop band blasted us with a high level of exhilaration and lyrical spontaneity. You just never knew what you were gonna get from these guys.
The crowd eventually mirrored the bouncing happening onstage with arms in the air and big smiles. It's hard not to have fun watching this band who obviously love their music. Mid-set, Princess Leia was invited out to round out the Star Wars theme and add a feminine contrast in vocals from Aubrie Hamrick. If anyone in the crowd missed the MTHDS' tribute show to The Beastie Boys back in June, we got a taste of it as a Beastie Boys cover was gratefully planted in the middle of the band's set.
March Fourth Marching Band: Not only is it important to point out there is truly nothing like this band on the scene right now, but I also want to say March Fourth Marching Band deserves all the attention they're getting. They put on a phenomenal show, and left nothing to our imaginations.
The showcased every crazy antic you can imagine.  Fire breathing, burlesque dancing (on stilts, might I add,) stage diving (on stilts, might I add,) stunt moves like you ain't seen since a high school football game, and a nasty horn section that would make a band like Tower of Power blush. It was so much fun watching this technicolor band who was conceived during the crazy "holiday" of New Orleans fame – Mardi Gras.
During the few moments when you could peel your eyes from the beautiful lady on stilts dancing on a ladder, or from the mesmerizing flag dancers, it was easy to fall in love with the music. March Fourth's music is mostly instrumental, with a few key vocals strategically placed to enhance the music and add to the act. A standout for me had to be the extraordinary drum section, which includes bongos and drum harnesses made from bicycle parts.
A style of music that is part marching band, part big-band swing, part funk, and part straight-up vaudeville circus, not one person in the crowd seemed interested in leaving early for fear of missing another crazy act onstage.
There seemed no better way to salute Halloween weekend than by enjoying such a spirited, over-the-top show from the marching band that came all the way from Portland, OR. Hopefully they felt right at home surrounded by the open-minded Coloradoans who no doubt likened the experience of seeing March Fourth to an adventure akin to climbing a 14er or cruising down fresh powder. To say this show was exhilarating is an understatement. See for yourself next time.
Energy: A
Musicianship: B
Sound: B+
Stage Presence: A
Set/Light Show: B+
Overall: B+
After growing up in Missouri listening to vintage records of The Allman Brothers, Carly Simon, and Stevie Ray Vaughan, I was hooked to the live music scene and the contagious sounds of guitar licks and soulful lyrics. After moving to Colorado, I've been contributing to Listen Up Denver! as a freelance photographer and writer. I've also started a side project, KellYeah Photography, which gives me the opportunity to pair my passion for live music with my creativity and love of being around people. Aside from photography and writing, I'm an avid hiker of Colorado 14ers and a beer enthusiast.