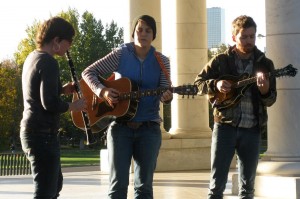 Midtown Dickens uses traditional instruments to pull the history out of the Southern soil on which they were formed, and spread the seeds of roots music all over the country. All of the band's members grew up in North Carolina and their roots run deep having absorbed music from family, friends, and Harry Smith's Anthology of American Folk Music. The instruments may be traditional, but the collective world view of the band and the way the music is being presented is not. Their "modern" ideas sprout new growth among the tall standing trees of tradition, and they are not overshadowed or kept in the dark by the old Southern order. This band has torn down the fences and spread their music all over the South, and now they are heading West to find fallow fields of listeners. These un-traditional keepers of tradition were kind enough to play a couple of songs just for you, Listen Up Denver!'s readers, before their show at the Hi-Dive the last time the band rolled through town. Listen Up Denver!….this is Midtown Dickens from Durham, North Carolina:
If you liked this one, stay tuned as we'll post a second song in the coming weeks . . .
Brian Turk grew up in the shadow of the Catskill Mountains, near Woodstock, NY. He comes from a family of music lovers, audiopliles, Dead Heads and avid concert goers.The musical magic that can only be created in the Catsklills, both past and present, is what Brian cosiders the epicenter of his music addiction. The music of The Band, and most recently The Levon Helm Band, is the soundtrack of home for him. Brian's mother took him to his first concert at 5years old...it was Johnny Cash and Roseanne Cash at Jones Beach Amphitheatre. For Brian, music is a family affair. He feels the same way about live music...we all convene to celebrate together. Brian's writing life started when he wrote his favorite author, southern fiction writer Clyde Edgerton, a fan letter at age 13. When most kids were idolizing baseball players and television, he was worshipping writers and musicians. The two became friends and Clyde shared his craft with Brian. The next year Brian attended Duke University's Young Writers Camp. This is the extent, of what Brian considers, his "formal" training in writing. From then on his goal was to capture snapshots of life through words. Brian has been involved with live music in various facets over the years, and combined with his enthusiasm and love for Denver's music scene, he creates a vivid description of what he sees and hears. If you see him out at a show, dancing with a notebook in hand, say hello.