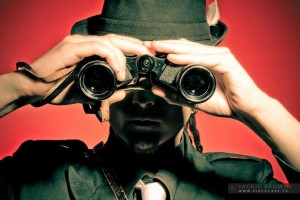 Photo by Jackie Brown
The Scene: It was a cold November evening, and while I showed up a little after the show had begun, I was greeted by the familiar darkness and warmth of Cervantes' Masterpiece Ballroom.  The crowd was gently swaying, chatting and enjoying a Thursday night libation in preparation for the sights and sounds of ill.Gates' Church of Bass tour.
Opener: Bluetech. Beginning in the lower ranges of both tempo and tone, Hawaii based producer Bluetech's (Evan Bartholomew) sound was a welcome opener for the evening's headliner ill.Gates.  The order of the sets was a last minute change, and from my standpoint it made plenty of sense, as Bluetech's sound is a mesh of Psytrance, Dub, and Down-Tempo Hip-Hop.  The set was a constant crescendo, full of master crafted filter work, Hip-Hop claps, and snares to tie one musical phrase to the next.  At his best, there are shades of downtempo greats Tipper and Shpongle, and there were a few times that I felt so hypnotized by the melodies that movement didn't seem possible.  I suppose in some way this is the goal of a Trip-Hop Psytrance artist, so I will consider the mission accomplished.
ill.Gates: The main event for the evening was the San Francisco by way of Toronto Dubstep and Hip-Hop producer ill.Gates.  With a show that promised the debut of a new light and stage setup, I knew that we were not going to be disappointed.  ill.Gates has consistently been on the forefront of the EDM scene, both producing and educating upstart musicians throughout the last decade.  Before pressing play on his bass based boom box, Gates let the crowd know what was going to be happening on stage.  He was accompanied by his lighting engineer, who we were told was going to be running the visuals on the two trapezoids on each side of the DJ booth, but then came the biggest surprise for me.  ill.Gates made the crowd aware that he would be running the visuals on the four rectangular screens spread about the room whilst still minding to the tunes.  This is the first time I've ever witnessed an EDM artist, or really a musician of any kind, try to pull off this feat.  The first ten minutes seemed like they were a direct result of this being the test run for this A/V setup, as the beats seemed muddled and nearly incomprehensible.
The off-kilter beginning was all but forgotten once Gates hit his stride and showcased his world class mixing abilities and live DJ controller work that has made him a sensei in the EDM performance world.  ill.Gates has put in countless hours of effort creating DJ software templates and tutorials for those trying to make it in the electronic music world.  His work has had such a profound impact that huge names such as Pretty Lights, Beats Antique and Bassnectar are all currently using versions of his performance software during their own sets.  The visuals varied from psychedelic patterns to global warming footage and politically inspired imagery.  The highlight of the set was Gates' remix of Die Antwoord's "Fok Julle Naaiers" which was accompanied by clips of Antwoord MC Ninja covered in live scorpions and venomously spewing the opening lines "All my fucking life I've lived a normal fucking life."  Gates' display of omnitempo beats actually made the crowd stand still at moments, to take a moment to try and catch up to the complexity that was soaring from the ballroom's sound stacks.
ill.Gates newest mission, and the namesake of his most recent album and tour, is the Church of Bass.  He is of the notion that the crowds gathering at music venues and being moved by sound, particularly the sounds in the lower realm of frequencies, are similar to those that congregate in churches every week across the country.  He is striving towards creating an official Church of Bass that would have the same tax breaks and allowances that other religious institutions are privy to.  He is a man of bold sights, sounds, and ideologies and whether or not his newfound theology is upheld, I am always fascinated by what's next to come from the mind of ill.Gates.
Energy: B
Musicianship: B
Sound: A-
Stage Presence: B
Set/Light Show: A-
Overall: B