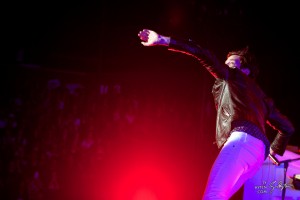 Photos by Ty Hyten
The Scene: The giant 1stBank Center arena filled-in early last Thursday night for Channel 93.3's Not So Silent Night concert featuring three of 2012's biggest names in substantive Pop music. Walking with friends to find seats in the GA Bowl section lead to the immediate realization that we were late even though it was just before 7:30. Though no music had started we found ourselves at the far end of the arena on the bend, seemingly miles from the stage.
The crowd in the stands was dominated by groups of friends and couples in their twenties and thirties drinking nine dollar Bud Lights and chatting casually. As I made a walk around the floor I saw much more of the scene I anticipated, teenagers in droves, all squeezing to be just an inch closer to the stage with each movement of the crowd. We came to find out later that this was the largest show Fun had ever played as a headliner, and all the signs that Fun has arrived as arena-sized band were present.
Opener: Churchill. I'll admit, I don't listen to the radio often and I walked into the show never having heard Denver band Churchill's hit "Change." The locals were honored with an opening spot at a huge show. I've certainly heard the buzz and knew they were on their way up. The group walked out to loud cheers and held their own during an early set for a huge crowd. While they did what they do well, they lacked the edge needed to pump energy into the veins of a large anxious audience in my opinion.
Opener: Of Monsters And Men. Coming to the close of an incredibly explosive year, Iceland's Of Monsters And Men rode a growing wave of success all the way to Colorado. Pushed by appearances at major US music festivals, radio play, and genuine talent, the six piece brought sing-a-long Folk-Pop with force to the crowd in Broomfield. The band played a truncated version of the previous night's set at The Boulder Theater [Editor's Note: Read our review of that show here] that was filled with fewer songs but with more intensity. A group of us who had seen them the night prior all agreed that while the sound was a bit harsh, the band played a much better set at 1stBank. They kicked off their set with the sweetly sung "Dirty Paws" and moved through eight more songs from 2012's My Head Is An Animal ending on "Six Weeks." The high water marks came during the band's infectious giant sing-a-long choruses of "Lakehouse" and "Six Weeks" and the loud "hey!"s that reverberated around the arena during "Little Talks." I honestly couldn't have  picked a better opener, and loved every song.
Fun: I was 16 years old when I was first blown away by Fun's Nate Ruess. That was nine years ago and I don't think I've missed a chance to see him live since. This show was my fifth time seeing Fun this year if that's any indication and after last Thursday I'd probably go see them again if they came next week. Formerly the front man for indie-pop group The Format, Ruess has always put on feel-good shows, so it was no stretch of the imagination when he named his latest incarnation Fun.
During the set Nate mentioned how grateful and amazed they've been by their success. He asked who was at their first Colorado show three years ago at CU's Club 156, to a round of light applause. (I can assure you these were courtesy claps because I was in attendance, along with about 40 others.) Nate mentioned how incredible it was to go from a room that holds 156 to a room that holds 7,000 and seemed genuinely thankful. This success was largely kick started by a song that has been impossible to escape, "We Are Young," which has been on repeat on about every radio station in the US for a full year.
The band was spread out across the giant stage, with the bass player and key player tucked away in back giving Ruess the room he needed to run. The set started with a high energy "One Foot" which felt more like a call-to-action than a tale of hanging in there. The band began as a bit of an Indie-Pop super group, Jack Antonoff on lead guitar, was the lead man of popular New Jersey band Steel Train and piano and horn player Andrew Dost from the eclectic band Anathallo. These guys stayed mostly in place and left the theatrics to Ruess. When Antonoff got a chance he slipped in some bad-ass licks to accent the vocal theatrics of his frontman.
Ruess's cartoon-like voice sounded as good as ever, hitting all the high notes with ease. This was a bit of a surprise as I recall him smoking cigarettes on stage with The Format, back when people could still smoke those. The band stayed true to both albums for the most part, with the exception of a sweet 80's metal intro to "Bar Lights." Not a bad choice for a band that thrives off some of that same bravado. The later half of the set brought a cover of the Counting Crows' "Long December" which I truly believe they played better than when I saw the Counting Crows play it in April…but don't tell Adam. "Long December" was followed by the theatric "Some Nights" which was a high note of the evening.
Waiving cell phones dotted the large crowd and continued to into "Stars." The auto-tuned chorus drew criticism from some of guys standing with girlfriends in a group nearby. It's my opinion that if you can't sing or if you use auto tune in excess that an artist deserves that kind of criticism, but Fun used it as an artistic accent rather than a crutch and I'm more than okay with that. The band left and returned for an encore with, you guessed it, "We Are Young" to an expecting crowd before wrapping things up with a cover of The Rolling Stones' "You Can't Always Get What You Want"…a huge sing along with a band who got what they needed in 2012.
Energy: A
Musicianship: B+
Sound: C+
Stage Presence: A
Set/Light Show: B
Overall: A-