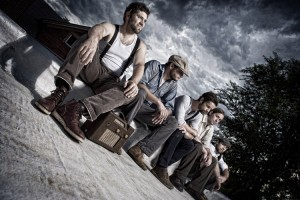 Why You Should Go: Sure, there are high dollar, big budget, shows like String Cheese Incident, STS9 and Yonder Mountain String Band fighting for attention on New Year's Eve, but we suggest you save some coin and join three of Denver's most talented bands at The Hi-Dive for only $8.  On the heels of their critically acclaimed debut record, A Royal Battle, Denver's own Strange Americans will be ringing in the New Year at The Hi-Dive with support from FaceMan and The Outfit.
When a band like Strange Americans takes a music-loving town like Denver by storm, you have to stand up and take note.  With accolades pouring in from local and regional press, 2012 was Strange Americans' best year yet and critics and fans alike agree this is only the beginning for the talented young band. Their ability to blend an authentic and road-weary, brown-boot Americana feel with a driving rock edge makes their sound ear candy for a large group of music lovers in Colorado and beyond. This may be your last chance to catch these guys in the intimacy of a club like The Hi-Dive!  Don't miss out!
While Denver's near unanimous enthusiasm for A Royal Battle has been well earned, the potential of this album's impact on the national scene is staggering and listeners lucky enough to be in-the-know remain awed by it months after its release (as evidenced by the album's recent appearance as one of Marquee Magazine's 10 Best Local Releases of 2012).  Though drawing comparisons to their sound is difficult, Strange Americans have been mentioned in the same breath as everyone from The Lumineers and Ryan Adams to Gaslight Anthem and Lucero.
While the saying goes that "no one knows what the future holds," Strange Americans are all but a sure thing…make sure you can count yourself among the lucky ones who will be able to say "I knew about Strange Americans before they sold-out Red Rocks."
Venue:  The Hi-Dive, 7 South Broadway, Denver, CO 80209 – (720) 570-4500
Doors: 8:30 pm / Show: 9:30 pm
*Price: $8.00
PURCHASE TICKETS
*All prices are gathered from other sources and we are not responsible for mistakes or inconsistencies. They are intended only as guidelines. Please, always call the venue if you desire the most accurate information possible.