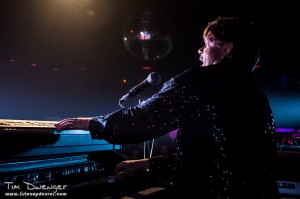 Photos by Tim Dwenger
(Photos from December 8th Show) 
The Scene: Concert goers escaped a chilly Friday evening as Cervantes' Ballroom played host to The Kyle Hollingsworth Band and Soulive on December 7th. With local Bluegrass favorites Good Gravy rocking The Other Side, an eccentric and young mix of Jazz veterans and Jamband stalwarts packed in for a night of smooth vibes and all around rambunctious behavior.  After witnessing a stellar but unsatisfying show from Hollingsworth and Soulive guitarist Eric Krasno the night before at Hodi's Halfnote in Fort Collins, I was ready to hear him and his band mates make the most out of the amazing lineup of special guests and wow a hungry crowd.  Before things even got rolling, I knew we were in for a fantastic evening in one of Denver's most hallowed venues.
Kyle Hollingsworth Band: Hollingsworth took the stage around 10 pm to a mostly full crowd of die hard String Cheese Incident fans and newbie's looking for an energetic jam session headlined by one of the best keyboard players in the business. The energy was tremendous as Kyle and his band ran through new and old SCI favorites including "Lets Go Outside" and a cover of The Talking Heads This Must be the Place (Naïve Melody). Although the crowd was dancing wildly and loving every minute of the set, the song selection was simply awful and mirrored the previous night's performance at Hodi's almost exactly. I almost couldn't believe my ears as five songs from Thursday night came up in almost the same order. Fortunately, impromptu appearances from a cheerful Jason Hann and Motet keyboardist Joey Porter saved a surprisingly lackluster performance. The crowd also voiced their displeasure with the fact that Hollingsworth left the stage for the last song, leaving it up to Porter to lead a wildly enjoyable piano laced jam. I'll always admire Kyle Hollingsworth, he's a master brewer, an incredible musician and a great human being, but this show certainly doesn't inspire confidence heading into a New Years run with his String Cheese band members.
Soulive: The crowd roared incessantly when Soulive took the stage a short time later accompanied by Royal Family Records' own Shady Horns (better known as the current horn section of masterful Funk kings Lettuce). For the last 13 years, guitarist Eric Krasno, drummer Alan Evans and keyboardist Neal Evans have led a soulful Jazz revolution that has entranced crowds around the world. After securing several more cocktails from the bar, we snagged a prime spot on the second level and observed a calm crowd clearly enthralled by the energy of the opener but apparently not prepared to handle the chillness of a Soulive performance. Fortunately, these boys delivered a magnificent set that saw them blend back to back covers of The Beatles "Eleanor Rigby" and "I Want You (She's So Heavy)," off their Rubber Soulive record with classics like "Vapor" and "Tighten Up."
Admittedly this was my first Soulive show, and my only previous experience with the band had been through an old Stockholm Jazz Festival recording that's been on my iPod for years. Although the crowd slowly shrunk throughout the night (even though rumors of sit-ins from members of Medeski, Scofield, Martin & Wood circulated freely), we stared in amazement as Krasno and the Evans brothers jammed and wound their way through a stellar 2 hour performance. What sets this band apart is that they aren't afraid to slow things down and take their time working into songs. This was evident towards the end of the show as they went into a 20 minute long Jazz trip that knocked a few more members out of the crowd while also inciting ravenous cries from the front row. With a subtle but effective light show behind them, Soulive turned the ballroom upside down despite a mixed reaction from the hyper crowd.  I know I'll be catching the trio the next time they roll through town because there simply isn't another band that can successfully play this kind of show.
Energy: A
Musicianship: B
Sound: A
Stage Presence: B
Set/light Show: B
Overall: B
I've worked various positions in the music industry with Madison House, Rock The Earth and Bohemian Nights. My dream is to travel the world and seek out all the good tunes, beer and food that make life so special. I have a healthy obsession with live music and I'm thrilled to share the epic moments with you.