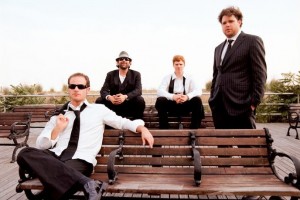 As winter really sets in, the snow starts to fall and temperatures drop into the single digits and below, whose mind doesn't drift off to thoughts of relaxing with friends or family on a warm beach somewhere? Natives of Philadelphia, where winters are notoriously grey and cold, The Disco Biscuits have figured out a way to spend a week on the beaches of Mexico each winter and actually have it qualify as "work." Three years ago, The Disco Biscuits partnered with their friends in Umphrey's McGee and STS9 and launched the Mayan Holidaze Festival, that allows them to hightail it out of the Northeast in favor of sun and sand for a few days in December. When The Marquee caught up with Biscuits keyboard player Aron Magner, he was in the midst of the Mayan madness. He sounded relaxed and excited as he explained that he had literally just returned from a five hour, two-tank, dive excursion and was slated to play a set from midnight to three in the morning that night. It may not sound like work, but for The Disco Biscuits, it is.
Not to shatter the idyllic image of late night parties on the beach and days spent lounging by the pool, but this year it sounds like things at Holidaze have changed a bit due to the arrival of another generation. "What is interesting about this year, especially compared to all the previous years, is that I brought my family down," Magner said.  "I've got one-year old twin boys and so many other band members and crew members also now have kids. So there are dozens and dozens of kids, all under two years old, that are down here. So now all the band members are not up until six a.m. partying. We are getting up at six a.m. with our kids. At the pool, where everybody used to be drinking margaritas and mojitos, now we are putting floaties on our children. I guess we've traded martini glasses for sippy cups."
There's no doubt that some of their fans have done the same, and the Biscuits have figured out a way to cater to fans who want to see the band several nights in a row but might not be able to jump in a car and hop from city to city for a week. They have set up multiple, multi-night, festival-like experiences around the country, and even internationally.
In addition to Mayan Holidaze in Mexico, the band runs their own major festival in upstate New York called Camp Bisco, and they recently threw the first City Bisco festival at The Mann Music Center in Philadelphia. With its thirteenth year coming up in July, Camp Bisco has sold out to 25,000 eager fans each of the last two years and featured acts like LCD Soundsystem, Yeasayer, Bassnectar, Skrillex, Ween, Thievery Corporation, and many more. It's a calculated move by the band to create events that their fans can't pass up. "One of the most fun parts about this band are the destination shows and we brand them that way," Magner said. "We make it an event not to be missed. Rather than just saying 'Hey, we are coming to your town,' we create an experience that screams, 'Wherever you are, you need to fly out and join us.' Whether we are putting together a bill of multiple bands or not, these events are not-to-be-missed spectacles!"
Finish This Article Over At The Marquee Magazine Site . . .

Catch The Disco Biscuits Live:
Boulder Theater – January 24
Ogden Theatre – January 25
1st Bank Center – January 26
The Marquee is an independent, Colorado-based, PRINT & ONLINE Free Music Magazine. The Marquee strives to be the Farmer's Almanac of the regional music scene — providing readers with facts, tid-bits, in-depth feature stories and a Calendar section that is unparalleled on Colorado's Front Range, covering every live music venue from large venues such as Red Rocks Amphitheatre to small clubs and coffee shops.